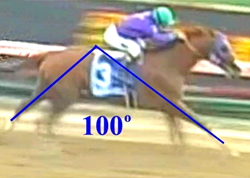 Third largest stride angle in racing history and 7 degrees larger than Affirmed, winner of last Triple Crown in 1978.
Tiburon, CA (PRWEB) May 27, 2014
California Chrome's track performance is no surprise to Somax Performance Institute director Bob Prichard. He measures the stride angle (maximum opening between the front and trailing leg) of horses and humans.
"People like to think that it is the nasal strips that give Chrome its edge," says Prichard, "but the secret to its success is its flexibility, as it is with all runners."
Chrome has a stride angle of 100 degrees at full stride. This is less than Secretariat, the most flexible and successful horse in history, at 110 degrees, and less than the 105 degrees of Barbaro, who won the 2006 Kentucky Derby by 6 1/2 lengths, but is 7 degrees more than Affirmed who won the last Triple Crown in 1978 with a stride angle of 93 degrees.
"The reason that the stride angle is so important in racing," explains Prichard, "is that for every degree you increase your stride angle you increase your stride length by 2%. This means that Chrome is covering 14% more ground than Affirmed, but 20% less ground than Secretariat. The stride angle is basically determined by flexibility. For this reason, we expect its long term performance to be somewhere between Barbaro and Affirmed."
A full explanation and photos of the stride angles of historically great horses can be found at: http://www.somaxsports.com/photo.php?analysis=SecretariatSA.
The role of the stride angle in human runners can be found at: http://www.somaxsports.com/photo.php?analysis=bolt.
Somax Performance Institute improves running performance by improving stride efficiency, including increasing the stride angle. Examples can be seen at
http://somaxsports.com/clients.php?client=osborneN and at http://somaxsports.com/clients.php?client=Preki.
Somax athletes have won 44 Gold Medals and have set 11 World Records. One of their baseball players dropped his 40 yard time from 4.9 to 4.27 seconds after his stride angle was increased, He also improved his bases stolen from 14/15 to 32/33.
Somax increases the stride angle by releasing microfibers, a mild form of scar tissue that forms in the connective tissue between the muscles. This scar tissue prevents the muscles from sliding past each other, which they have to do in order to stretch. Since the microfibers are scar tissue, they cannot be released by stretching. Microfiber Reduction improves flexibility 100-600% beyond what stretching alone can do.
More information on Somax and its programs can be found at http://www.somaxsports.com.