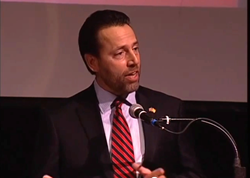 The Party elite always play the same game: use unreliable polling and the media to try to convince voters there is no way to defeat their hand-picked candidates. The people are not buying it,
Fairbanks, AK (PRWEB) June 12, 2014
U.S. Senate candidate Joe Miller congratulated Dave Brat on his victory over House Majority Leader Eric Cantor in Virginia's 7th District Republican Primary.
"I want to congratulate Dave Brat on his great victory in Virginia. Those in the Republican Establishment have done all they can this election cycle to announce the demise of the tea party movement with bold predictions of 'crushing them everywhere.' Well, maybe they should have checked with the grassroots before making such proclamations," said Miller. "From Jolly in Florida to Sasse in Nebraska to McDaniel in Mississippi to Brat in Virginia, the tea party is proving that the people and not the party bosses or would-be king-makers in DC have the final say."
Brat overcame Cantor's significant monetary advantage and media presence to defeat the GOP Party leader. Cantor raised over $5 million for his re-election bid to Brat's $200,000 in contributions, according to McClatchy DC News (6/10/14). Cantor's campaign released a poll last Friday, conducted by John McLaughlin of McLaughlin & Associates, reported on by the Washington Post (6/6/14), showing Cantor with a 34-point lead over his tea party challenger (62 to 28 percent). Brat defeated Cantor by approximately 56 to 44 percent, as reported by CNN (6/11/14).
In 2010, Miller defeated Senator Lisa Murkowski in the Republican primary despite polling by Alaskan firm Dittman Research showing him trailing by 37 points weeks before the election. Murkowski, like Cantor, enjoyed a substantial monetary advantage of $2 million on hand at the end of June to Miller's $125,000 according to KTUU.com (7/16/10).
Dittman Research recently released a poll (without publishing the supporting data) showing Miller running over twenty points down against his primary opponents. The owner of the research firm is a max contributor to establishment candidate Mead Treadwell. Miller recently defeated Treadwell in a debate in his rival's hometown of Anchorage, winning the straw poll following the debate. Less than a week before Miller won the Alaska Republican Assembly's straw poll taking 76 percent of the vote, to Treadwell's 18 percent, and Dan Sullivan's 6 percent. Both indicate Miller has strong grassroots support as he did in 2010.
.
Amnesty and government spending were two of the decisive issues in Virginia's 7th District primary race. Miller faces two Establishment candidates, Treadwell, who openly advocates for amnesty and Dan Sullivan who is heavily backed by those advocating for it, including the U.S. Chamber of Commerce and billionaire moderate Republican Paul Singer. Miller was the only candidate to come out publicly against the Murray-Ryan budget deal, when it was being debated last fall.
"The Party elite always play the same game: use unreliable polling and the media to try to convince voters there is no way to defeat their hand-picked candidates. The people are not buying it," said Miller spokesman Randy DeSoto. "They know Washington is the problem and sending more there who want to play the Establishment game will not restore freedom or revive our economy. Based on what we've been seeing here in Alaska, the grassroots have another surprise in store for the Establishment in August."
Joe Miller is a committed Christian, husband, father, combat veteran, advocate of Constitutional liberty who believes in individual rights, private property, free markets and pro-life.
Joe is endorsed by the Gun Owners of America, National Association for Gun Rights, Alaska Right to Life, Congressman Thomas Massie, Gen. William "Jerry" Boykin (Ret.), Lars Larson and Combat Veterans for Congress.