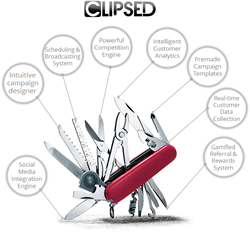 CLIPSED allows to cost effectively monetise social media.
(PRWEB) June 03, 2014
CLIPSED, a technology media company is raising the bar with its new online marketing application suite.
These days the problem with social media networks is that they provide very little information about who the business's followers really are.
Are they loyal customers or paid spammers? Most know that Facebook doesn't care, after all most businesses will pay more in sponsored posts to send messages to Russian bots.
Businesses need to understand who their social media followers really are and what they are interested in then which is why they need to look for more creative ways to market products and services.
CLIPSED demystifies social media and online marketing and allows businesses to get an insight into followers, their behavioural traits and market their products and services very cost effectively.
Clipsed marketing tool allows to incentivize and reward those that are most vocal and true to a brand.
Utilising friends and family networks of followers for referrals is a strategy that has worked again and again and the most cost effective way of marketing unlike methods like banner advertising and Google adwords.
There are many platforms out there that provide disparate tools that alone are ineffective but it is CLIPSED that brings all creative, marketing, distribution, advertising and analytical capabilities together in a comprehensive online suite of applications – the swiss knife for marketing!
CLIPSED makes running the most professional looking multichannel campaigns totally effortless.
For a limited time, CLIPSED is offering a free trial of its online suite of applications which come populated with ready-made campaigns that run on social media channels or websites.
These campaigns allow to gather vital analytics, find and connect with customers, understand their behaviour and convert them into new sales and referrals.
Benefits of using CLIPSED:

Bring customers into physical stores and places of business using CLIPSED
Monetise social media by tracking conversion of marketing dollars into client acquisitions
Gamify existing marketing campaigns
Track consumer behaviour online using CLIPSED online analytics engine
Reach wider social and digital audience online through the use of CLIPSED viral marketing features (leader boards, digital incentives such as badges and more)
Tap into customers' networks using CLIPSED powerful referral features.