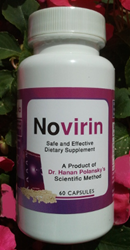 If an individual is concerned about the killer cold virus, we believe he or she should talk to the doctor about Gene-Eden-VIR and Novirin. - polyDNA
Rochester, NY (PRWEB) May 30, 2014
According to polyDNA's latest survey, only 26% of participants knew that a new strain of the common cold "adenovirus," can cause severe symptoms and may lead to death. A new strain of adenovirus termed adenovirus 14 or Ad14 "appeared in several outbreaks (2005, 2007, 2008 and 2009-10 in Ireland) and …caused severe pneumonia and deaths in several different groups of individuals." (See MedicineNet.com, last reviewed April 1, 2014) (1). Health professionals then named it "The Killer Cold Virus." This term was used because, "in most people, adenoviruses cause symptoms of the common cold, not severe pneumonia or death (1)." Additionally, "Adenovirus 14 (Ad14) is termed the killer cold virus because of the high incidence of hospitalizations and deaths attributed to the viral strain (1)."
polyDNA recommends that individuals concerned about the common cold take Gene-Eden-VIR or Novirin. These two products are natural antiviral dietary supplements. The formula of each contains 5 natural ingredients. These are selenium, Camellia Sinesis Extract, Quercetin, Cinnamomum Extract, and Licorice Extract. That's 4 plant extracts and 1 trace element. Each ingredient of Gene-Eden-VIR and Novirin was chosen through a scientific approach. Scientists scanned thousands of scientific and medical papers published in various medical and scientific journals around the world to identify the highest quality, safest, most effective natural ingredients that target latent viruses.
Gene-Eden-VIR and Novirin are the only natural antiviral products that were tested in clinical studies. These studies showed that the formula reduced viral symptoms. These products can be ordered online at http://www.gene-eden-vir and http://www.novirin.com.
Some people may wonder how the killer cold virus is transmitted.
Research shows that "Ad14 viruses are passed person to person or picked up from items touched by infected people and then initially invade cells in the eye, nose, or mouth that subsequently allow further spread to other body organs (1)."
How can one tell if they have the killer cold virus or just the common cold?
Initially, there is no way to be sure. Once infected, "Symptoms and signs resemble those of a cold (cough, runny nose, mild fever) for about three to five days (1)." In fact, the majority of people end up clearing the virus. In about 40% of those infected, however, individuals "may need hospitalization with severe symptoms of pneumonia, and shortness of breath (1)." Other organ related symptoms may also develop, such as eye, bladder, and stomach problems. This is why polyDNA recommends protecting one's self from the killer cold virus before one detects symptoms.
Are there effective drugs against the killer cold virus?
Antiviral drugs have been used by some doctors to help their patients, but so far, "there are no studies that prove efficacy, only case reports (1)." There are, however, two natural products with a formula that was designed to help the immune system target latent viruses. These products are Gene-Eden-VIR and Novirin.
"If an individual is concerned about the killer cold virus, he or she should take Gene-Eden-VIR or Novirin. The formula for these natural antivirals was scientifically designed to target latent viruses." – Mike Evans, polyDNA
Novirin shares the same formula as Gene-Eden-VIR. The difference between the two is that Novirin has higher quality, more expensive ingredients. The Novirin/Gene-Eden-VIR formula was tested in two post-marketing clinical studies published in September 2013 and March 2014, respectively, in the peer reviewed medical journal Pharmacy & Pharmacology (2).
Interested individuals can view the two published studies here, http://cbcd.net/Gene-Eden-VIR-Clinical-Study.php and http://cbcd.net/Gene-Eden-VIR-Decreases-Fatigue-Clinical-Study.php.
Up to 70% of those studied reported a decrease in symptoms associated with viral infections, and users of the Novirin/Gene-Eden-VIR formula experienced an increase in overall health (2).
A second clinical study showed that Gene-Eden-VIR and Novirin formula decreased physical and mental fatigue. (See Pharmacology & Pharmacy, from March, 2014) (3).
To learn more about Novirin, visit http://www.novirin.com and about Gene-Eden-VIR, visit http://www.gene-eden-vir.com.
All orders of these products are completely confidential, and no information is shared or sold to any third party. Privacy is assured.
References:
(1) Medicinenet.com - Adenovirus 14 Infection (Killer Cold Virus). Last reviewed on April 1, 2014.
http://www.medicinenet.com/killer_cold_virus_adenovirus_infection_ad14/article.htm
(2) Gene-Eden-VIR Is Antiviral: Results of a Post Marketing Clinical Study. Published on August 12, 2013.
http://www.cbcd.net/Gene-Eden-VIR-Clinical-Study.php
(3) Gene-Eden-VIR Decreased Physical and Mental Fatigue in a Post Marketing Clinical Study That Followed FDA Guidelines; Results Support Microcompetition Theory. Published in March 2014
http://www.cbcd.net/Gene-Eden-VIR-Decreases-Fatigue-Clinical-Study.php
polyDNA is a biotechnology company that develops dietary supplements using the unique scientific method developed by Dr. Hanan Polansky, which is based on Computer Intuition.
In addition to his unique scientific method, Dr. Polansky published the highly acclaimed scientific discovery, called Microcompetition with Foreign DNA. The discovery explains how foreign DNA fragments, and specifically, DNA of latent viruses, cause most major diseases.
polyDNA developed Novirin, an antiviral natural remedy that helps the immune system kill latent viruses.