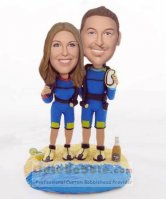 (PRWEB) May 25, 2014
CuteBobble.com, a renowned figurine manufacturer and retailer, has updated its online category with a new collection of bobbleheads cake toppers. Furthermore, the company's senior spokesman has stated that all these brand new toppers are available at discounted prices, up to 30% off.
The bobbleheads cake toppers offered by CuteBobble.com are very interesting. All of them are made of high quality polymer clay, about 6~7 inches high. These funny items are ideal personalized gifts for presents or weddings, anniversaries, birthdays, farewell, Valentine's day, Mother's day, Father's day, sports events, parties, graduation, pranks, housewarming, Christmas or any special occasion.
"Custom topper is the unique one-of-a-kind gift. Using your picture or other pictures you like as references, our top experts can create custom caricature figurines made to look like you or your loved ones. If you are looking for something that can make your big day more memorable, just send us a photo and we will hand-sculpt a personalized figurine for you," the senior spokesman says.
By providing all kinds of affordable toppers, CuteBobble.com wants to show its appreciation to worldwide fans. It is true that all CuteBobble.com's interesting bobbleheads are available at reasonable prices. For clients who place big orders, the company also provides extra discounts. Currently, the lowest unit price is 12.5 dollars.
About CuteBobble.com
As one of the most popular supplier of cute bobblehead dolls, CuteBobble.com is now offering various kinds of interesting items for worldwide customers. The company has thousands of loyalty customers at home and abroad. It wants to help all people to make their big days memorable and funny. Many of its items are hot in the market: wedding bobblehead cake toppers, groomsman bobbleheads, office lady bobbleheads and so on.
More details at: http://www.cutebobble.com/my-face-custom-bobbleheads-wedding-bobblehead-cake-topper-c-1_8.html.