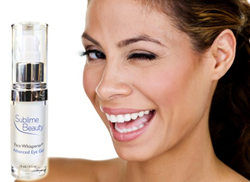 The Sublime Beauty® eye serum helps get to the source of the problem, diminishing dark circles, bags and wrinkles.
St. Petersburg, FL (PRWEB) May 28, 2014
Many are afflicted with dark circles and bags, and try to mask the problems. The Sublime Beauty® serum helps fix the issues at the source.
The Face Whisperer® Advanced Eye Gel includes three performing and patented ingredients: Haloxyl®, Eyeliss®, and the amazing peptide Matrixyl®.
"Haloxyl® treats inflammation and discoloration that occurs when capillaries leak blood under the skin causing dark circles," says Kathy Heshelow, founder of Sublime Beauty®. "Eyeliss® targets the three main causes of under eye bags, increasing circulation and lymphatic function while decreasing puffiness."
Matrixyl® is included in many Sublime Beauty® products, as it is superior peptide to boost collagen levels in skin. This is essential since collagen diminishes with age and causes wrinkles.
The eye gel is part of the Face Whisperer® collection, which includes a day cream with Argireline® (the natural botox®), Night cream and the Neck & Decollete cream.
The Face Whisperer® Advanced Eye Gel is on sale this week at the Sublime Beauty® webstore with free shipping. Use coupon code EYEGEL25 at checkout for 25% off. An informative brochure about the ingredients is found on the product page.
Use twice daily before any cream, and see results in a month. Continued improvement can occur over 3 months.
ABOUT: Sublime Beauty® is a quality skincare company that focuses on products to "Age Younger". Products help to boost collagen, hydrate, relax wrinkles and improve skin. A niche includes healthy Skin Brushes. The company webstore offers free standard shipping and a VIP Club. Products also available on Amazon.