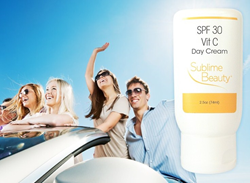 Protect against a growing problem - skin cancer.
St. Petersburg, FL (PRWEB) July 03, 2014
Summer is here! Many will spend more time outdoors, on vacation, at the beaches and in the gardens.
Protect against a growing problem: skin cancer.
There is more than just the risk of skin cancer. Sun is not the friend of skin, as it can cause wrinkles, lines, age spots and more.
It is easy to put on that SPF30 each morning with a day cream. The Sublime Beauty® formula includes the powerful anti-oxidant and healer, Vitamin C.
Sublime Beauty® offers a beautiful jar for home use, or a tube for those on the go (great for the beach, pool or day out).
The new tube format is on sale for the July 4th holidays: use code 25SPFTUBE at checkout to get 25% off through July 6th.
ABOUT: Sublime Beauty® is a quality skincare company that focuses on products to "Age Younger". Products help to boost collagen, hydrate, relax wrinkles and improve skin. A niche includes healthy Skin Brushes. The company webstore offers free standard shipping and a VIP Club. Products also available on Amazon.