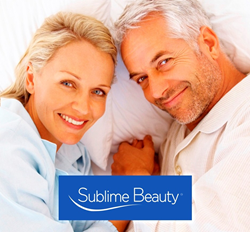 Everyone wants better skin, and healthy skin is important to well-being. Sublime Beauty® offers 4 tips on how to improve skin now.
St. Petersburg, FL (PRWEB) June 05, 2014
Everyone wants better skin, and healthy skin is important to well-being. Sublime Beauty® offers 4 quick and easy tips:
1) Dry Skin Brushing.
"It is amazing how skin can be improved and well-being boosted with Skin Brushing," says Kathy Heshelow, founder of Sublime Beauty® and an avid Skin Brusher. This centuries-old practice is making a comeback and is favored by many celebrities and models today like Salma Hayek and Miranda Kerr.
Simply use a natural-bristle brush on dry skin, and always brush towards the heart in medium strokes before showering. A full guide and information is available on a website dedicated to Skin Brushing.
"Our brush is mentioned in the June issues of Glamour and its blog Lipstick, and a new article just came out in the hip Urbanette magazine about brushing, says Heshelow. "Skin Brushing boosts blood circulation and the lymphatic system while keeping cellulite away - what's not to love," asks Heshelow.
2) Phytoceramides.
Phytoceramides are new to the anti-aging world, but have been used in Japan for more than a decade and more recently in Europe.
Phytoceramides replenish ceramides in the skin naturally, responsible for plumpness, moisture-retention and barrier protection in skin. It takes skin a month to turn-over, so new ceramides will be revealed then. Skin Brushing helps the process along, too.
A new easy-to-read book was just published on Phytoceramides by Heshelow. "When a new product comes along, we have to demystify it and present clear information so clients can decide if they would like to try it," says Heshelow.
3) Peptides - Secret Weapons for the Face.
Peptides like Matrixyl® and Argireline® should be included for the best improvement to facial skin, says Heshelow. Matrixyl® can double collagen production, which slows each year and is behind wrinkles, sagging and thinning of skin. Argireline® is known as the natural botox and can naturally relax wrinkles and improve skin. More information is found here on secret ingredients to improve skin.
4) Natural Body Oils with No Additives or Chemicals.
The oil craze is coming back to the U.S, and with good reason. Natural oils are full of vitamins, minerals and great qualities to improve and moisturize skin. Some have natural anti-inflammatory qualities, for instance.
Nourish skin naturally, add no adverse chemicals that is absorbed by skin - and let skin glow healthily with oils. "We designed a product with oils that compliment each other," says Heshelow.
ABOUT: Sublime Beauty® is a quality skincare company that focuses on products to "Age Younger". Products help to boost collagen, hydrate, relax wrinkles and improve skin. A niche includes healthy Skin Brushes. The company webstore offers free standard shipping and a VIP Club. Products also available on Amazon.