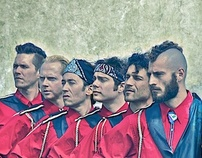 "Diego's Umbrella has created a worldwide smorgasbord of fun music that ultimately plays like a cultured clown's party mix." - Performer Magazine
San Rafael, CA (PRWEB) May 27, 2014
Gypsy Rock night at the Summer Nights festival at the Osher Marin JCC brings a group of urban, gringo mariachis that have performed more than 1000 live shows at clubs and festivals across the U.S. and Europe. The band's lively, unforgettable, heavy-hitting stage show has visually and aurally captivated diverse audiences from all walks of life. Influenced heavily by flamenco, klezmer, Eastern European and Latin sounds, Diego's Umbrella has introduced the world to a new kind of popular music: Gypsy Rock. They possess a pop sensibility and punk rock energy with sounds reminiscent to that of Gogol Bordello, DeVotchKa and Muse.
Nearing the release of their 4th album, the group has been featured in major motion pictures, network television and numerous documentaries, in addition to countless worldwide radio and print appearances.
There are two kinds of people in this world: those who love Diego's Umbrella and those who soon will. Celebrated as San Francisco's Ambassadors of Gypsy Rock, these world-renowned entertainers have created an irresistible cocktail that is entirely their own.
Tickets & Pricing: - $22 advance/$25 day of / Kids 17 & under free

Subscribe: 5 for only $85 - best pricing/early seating
Reserve a Picnic table for 8 or Cabaret tables for 4
Tickets available online at http://www.marinjcc.org/summernights or by calling 415.444.8000.
MEDIA CONTACT: Linda Bolt ~ 415.444.8081~ lbolt(at)marinjcc(dot)org
MORE:
Ideal for families and multiple generational gatherings, the venue is set against the beautiful hills of Marin and within a secluded, self contained, safe, outdoor park-like environment that is expansive and open, yet accessible only through the JCC. The Kanbar Center for the Performing Arts is thrilled to present this fun, humorous and talented band rising from the SF Bay Area.

6:00 p.m. - VIP table & Subscriber Entry
6:15 p.m. - General Admission Entry
6:40 p.m. - Israeli Folk Dancing Fun
7:00 p.m. - Performance
All performances are over before 10:00 p.m.
The venue begs for picnicking but offers the choice of purchasing delicious and affordable meals.
Miller's East Coast Deli will have a pop up restaurant on site selling their delicious Old World Deli cuisine.
No alcohol is allowed to be brought in, but is available for purchase.
Seating options including picnic ground, chairs, picnic tables and intimate cabaret seating.
Kids 17 and under are free. Bread & Roses will host the Kid Zone, offering up an art project alongside the playground for youngsters.
Georgi & Willow pop-up shop will offer festival clothing and add to the full Marin community experience.
The Kanbar Center for the Performing Arts is the Performing Arts Department within the Osher Marin Jewish Community Center in San Rafael, California. All are welcome; no membership is ever required to attend. The Center is a long-standing Marin non-profit, centrally located in Marin County and just ¼ mile east off Hwy 101.
7/12 –African Music Night:
Sierra Leone's Refugee All Stars – African Dance - Sol Food
7/19 – Pacific Island Night:
HAPA, Hawaiian Dance – Mauna Loa Hawaiian BBQ
7/26 –Gypsy Rock:
Diego's Umbrella – Israeli folk Dancing – Millers East Coast Deli
8/2 – Country Western/Americana:
The Good Luck Thrift Store Outfit – Country Two-Step – Casa Manana
8/9 – Indie Folk Rock:
Blame Sally – Yoga! – Sol Food
MEDIA CONTACT: Linda Bolt ~ 415.444.8081~ lbolt(at)marinjcc(dot)org