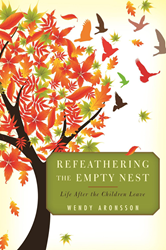 (PRWEB) May 27, 2014
With high school graduations happening throughout the country, many parents face the stark realization that they will soon have an empty nest. In Refeathering the Empty Nest psychotherapist Wendy Aronsson offers insights and possibilities related to the departure of the youngest child.
Aronsson names the life phase that begins in preparation for an "empty nest" and continues until parents re-feather the nest; she calls it "the Shift."
"With the need for daily parenting no longer required, some parents may feel their identity eroding—but it's really a time to help it evolve," says Aronsson. "The Shift is an opportunity to self-reflection, re-orientation, and discovery." In the book, she centers on those experiences, capturing the realities of the emotions and life changes that come on gradually, and sometimes proceed in fits and starts.
Refeathering the Empty Nest is for parents preparing for the departure from home of their youngest child. It is for those who wish to move forward productively, both in their new parenting role and in their roles as spouse, employee, friend, neighbor, and self. Using real stories throughout, Aronsson shows how people have managed these changes, how they've reignited the passion in their marriages or moved on from bad matches, how they've rediscovered old interests and talents, and how they've reinvented their relationships with their children as well. These stories provide hope and guidance to anyone whose nest is about to empty as well as those whose nests already are.
Wendy Aronsson, LCSW, has been a licensed psychotherapist since 1981 and is in private practice in Greenwich, Connecticut.
For further information or to book Wendy Aronsson for an interview, contact Meryl Moss, Meryl(at)mediamuscle(dot)com, 203-226-0199.
Title: Refeathering the Empty Nest: Life After the Children Leave
Author: Wendy Aronsson
Publisher: Rowman & Littlefield
ISBN: 978-1442224025