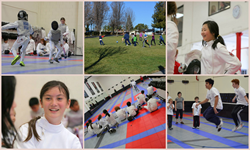 This fencing camp is a must for fencers that want to boost their game leading into the 2014 Summer National Fencing Championship in Columbus, Ohio: to reach their top performance in this important competition
Campbell, CA (PRWEB) May 27, 2014
The intensive two-week fencing camp will provide special training to foil and epee fencers who want to improve their game before heading to the Summer National Championship in Columbus, Ohio. This Academy of Fencing Masters' fencing camp is specifically designed to improve the physical condition of athletes, strengthen fencing technique, and hone tactical skills in order to prepare the fencers for their peak performance during the ultimate competition of the year. The camp is directed by world-class AFM Coaches Alexandr Maximovich and Natasha Maximovich, Ph.D. who have decades of experience coaching top athletes, including national, world, and Olympic champions.
The AFM Summer Nationals Preparation Fencing Camp is the ideal intensive training opportunity for competitive fencers to help them prepare for national-level competitions and it includes:

Physical training and conditioning
Footwork, drills, and developmental exercises
Coached open bouting
Bout tactics and strategy
Situational simulation and preparation for different scenarios during competition
Mental training for success
In addition to physical training, campers will work with a sports psychologist. Sports psychology is an important part of the camp program and is fully integrated with every other aspect of the camp work. The sports psychologist will conduct daily group and individual sessions that are aimed at helping athletes realize their full competitive potential through goal setting, proper mental preparation, and overcoming problems that fencers face before and during competition.
Coaches will work with each participant to improve fencing skills and provide individual constructive feedback on technique and on-strip strategies. On-strip strategies help the athletes to adjust their game during fencing bouts at different stages and phases of the competition. Each athlete will be challenged to think critically and develop approaches and methods to improve their fencing performance and empower themselves in their own training after the camp.
"Coaches Alexandr Maximovich and Natasha Maximovich have tremendous experience running fencing camps from club to national level," explained Irina Chirashnya, founder of Academy of Fencing Masters. "This fencing camp is a must for fencers that want to boost their game leading into the 2014 Summer National Fencing Championship in Columbus, Ohio: to reach their top performance in this important competition."
The camp starts on June 9 and runs till June 20, excluding Sunday. On each camp weekday, the camp training hours are 9am till 4pm, with drop-off available starting at 8am and pickup going until 5pm. On Saturday June 14 the camp hours are 1pm till 4pm, with drop-off starting at noon and pickup going until 5pm (extended drop-off and pickup hours are included in the price).
The cost of the camp is $945 for the two-week session and $595 for one week only (either first or second).
"As the name implies, this camp will immediately benefit those competitive fencers that go to the Summer National Championship," continued Chirashnya. "However, those who cannot make it to Columbus will still reap a huge value from the camp, as they will greatly improve their skills and conditioning and will learn tools for their training and fencing going forward".
The AFM Summer Nationals Preparation Fencing Camp is open to AFM members and non-members alike from 8-18 years old.
For further information and registration, go to askFRED.net.
About Academy of Fencing Masters:
Academy of Fencing Masters seeks to develop all level of fencers, from beginners to Olympic athletes, through elite coaches, state-of-the-art facilities, and supportive community for both the fencer and the family. AFM prepares athletes for fencing and for life.