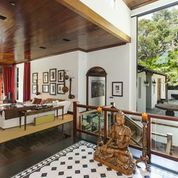 Pompano Beach, FL (PRWEB) May 27, 2014
When Kid Rock sings, "Welcome to my shanty..." in his foot stompin' country hit, "Redneck Paradise," he may be talking about his camouflage-covered doublewide in the woods of Alabama, but there's nothing "redneck" about Kid's sophisticated Balinese-style Malibu home. Kid's not so "Redneck Paradise" in Malibu is now for sale priced at $13.45 million.
Don't knock the Rock. This is a man so talented and versatile that he moves just as easily between house styles as he does through rap, blues, southern rock and country music. A five time Grammy nominee with a string of music awards guaranteed to leave one dizzy, Kid also has his own clothing line, Made in Detroit, and funds a Wayne State University scholarship with his profits. A strong supporter of the troops, he has made many USO trips to Iraq, Afghanistan and Kuwait to entertain the military and has made his album, "Born Free" available to them as a free download.
Since 2006, Kid and his son, Robert, Jr., have come to kick back - well, maybe with one of his Bad Ass Beers, walk down to the beach and get inspiration for writing music and decompress from exhausting musical tours. Located in Malibu's residential community of Point Dume,his 8,305 square foot, open and airy serene residence is made up of dark hand-carved wooden columns, beams and doors that bring an earthiness to the sleek architecture and pristine white-walled background. Large sweeps of glass open to the lanai, balconies and tropical landscape with views of the pool and guest house situated across the lawn. Inside, there are five bedrooms, five full baths, a family-media room and gym. The large chef's kitchen and dining room are perfect for entertaining and the formal living room can be turned into a screening room for multiple guests. In keeping with the exclusivity of Point Dume, the beach area maintains its privacy through keyed access.
Kid Rock's not so "Redneck Paradise" is now on the market, priced at $13.45 million. The listing agent is Chris Cortazzo of Coldwell Banker in Mailbu Beach, California.
Real estate is never boring at TopTenRealEstateDeals.com.