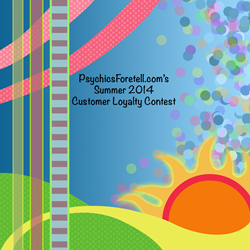 Are you a winner?
Bucks County, Pa (PRWEB) May 26, 2014
Summer 2014 has officially kicked off and the staff at Foretell is bringing on the heat with their customer loyalty contest. This year, the company will award three lucky clients with all sorts of prizes.
"We wanted to do something a bit different this year - switch it up a bit," explained one of Foretells staff members.
Different indeed. This year, Foretell will be holding a raffle that extends from Memorial Day to Labor Day, one of the longest running contests the company has had. Foretell is awarding 3 winners during this time.
Contest winners will be rewarded with prizes such as free minutes, coupon codes, and free astrology reports.
Clients are encouraged to check out Foretell's psychic blog page for more information about the contest and rules.