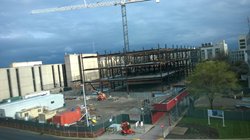 Project Tripod is able to make available the time lapse imagery of the construction projects progress to stakeholders such as clients and senior management located around the world.
(PRWEB) May 26, 2014
Everyone loves time-lapses. We like to visualise things changing over time that are often imperceptible to the human eye. We do it for different reasons, whether that be just because it's cool, interesting or for commercial reasons where it's important to measure the progress of something changing.
The problem has been that doing this is a pain - especially over long time periods. Until now this has been in the domain of high end videographers, documentary makers and scientific organisations to name a few because it's very difficult, requires expensive specialised equipment and is time consuming.
That is about to change as recently launched Australian startup Project Tripod is making it now possible for anyone. The development has been funded to date thanks to the Nokia/Microsoft AppCampus program.
The Project Tripod team have spent a large portion of the last year building a Windows Phone exclusive app and enterprise scale cloud powered API that allows people to use their mobile device to make and contribute to long term time lapses.
Photos are taken on a smart phone with the app installed. What's cool is that these can be taken by one person, or 100 people, who may or may not know each other over a period of minutes or over 10 or more years. The images then get aligned by the cloud API. This is where the magic happens and where they become a perfectly aligned sequence of images.
Once you have the sequential images, the generation of outputs is now possible, such as traditional time lapse animations, multiple image blends and more that are only possible because the images are perfectly aligned.
The launch of the app is just the first step in a strategy that has its sights firmly set next on the Global Construction Industry. The release of the consumer application on Windows phone has been a clever first step for the team to develop a scalable enterprise ready back end system that is perfect for large scale construction projects and this is where their focus now lies.
CEO Catherine Eibner states "While we are seeing some great Virtual Tripods being set up around the globe of iconic tourist sites, as well as spectacular landscapes and cityscapes, what we are pleasantly surprised by is the number of our users who are using Project Tripod to monitor change over time in their projects. The projects range from house and garden renovations, to new home construction, through to large scale enterprise construction sites. This is fantastic validation for us as we see Project Tripod offering a unique solution in this industry and validation this area is key for our next steps."
Having recently won the Pre-Revenue company category at the exclusive Australian OzApp awards going on to be awarded the State government Innovation MVP Grant, the team is working with a non-disclosed large international infrastructure construction giant to design the first of its industry dashboards for construction.
According to Project Tripod CEO Catherine Eibner, "Construction firms require a quick and cost effective way to professionally and accurately record the historical progress of the projects they have underway globally." She goes on to say "Project Tripod is garnering interest from global companies in this space because they are able to utilise their existing workforce to gather the required imagery rather than go to the expense of locating and negotiating access for major camera infrastructure. It is also of interest because we are able to make available the time lapse imagery of the construction projects progress to stakeholders such as clients and senior management located around the world."
Project Tripod is certainly one to keep your eye on!