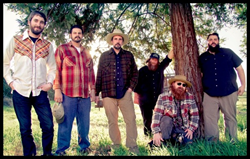 A tag-team of the best songwriters you will find out there in music right now. – Saving Country Music.com 2013
San Rafael, CA (PRWEB) May 30, 2014
The Good Luck Thrift Store Outfit defies categorization, usually settling for some hybrid of Americana, folk, rock, bluegrass, and that sweet, old country & western. But, they describe their efforts as trying to make good, honest, insightful music, that's not afraid of a good time and a little fun, that people will move their feet to, and that also goes real well with a straight road and a long drive. The Kanbar Center for the Performing Arts at the Osher Marin JCC is thrilled to bring this talented band and their music to Marin County.
Made up of two Americana singer-songwriters, an indie-rock veteran of a drummer, country-born bassist, and metal-bred pedal steel player, what you get is the rough-hewn yet driftwood-smooth; rebel-headed, but heart-of-gold sound of The Good Luck Thrift Store Outfit. The Outfit includes singer-songwriters Chris Doud and Willy Taylor, drummer Aaron Burtch, Taylor Webster on Bass and vocals, and multi-instrumentalists Matt Cordano and Chandler Pratt. Likened to anything from Old Crow Medicine Show and The Avett Brothers to Asleep at the Wheel, Bob Wills and even Neil Young (depending on which live set you happen to catch.
Tickets & Pricing

$22 advance/$25 day of / Kids 17 & under free
Subscribe: 5 for only $85 - best pricing/early seating!
Reserve a Picnic table for 8 or Cabaret tables for 4
Tickets are available online at http://www.marinjcc.org/summernights or by calling 415.444.8000.
All are invited to wear their favorite Good Thrift Store Outfits, or buy one on-site from the Georgi & Willow pop-up store and support Good Will Industries.
More About the Venue:
Ideal for families and multiple generational gatherings, the venue is set against the beautiful hills of Marin and within a secluded, self contained, safe, outdoor park-like environment that is expansive and open, yet accessible only through the JCC .

6:00pm- VIP table & Subscriber Entry
6:15pm- General Admission Entry
6:40pm- Country Two-Step Dance Class
7:00pm- Performance
All performances are over before 10:00pm
The venue begs for picnicking but offers the choice of purchasing delicious and affordable meals.
Casa Manana of Fairfax will have a pop up restaurant on site selling their delicious Mexican Cuisine.
No alcohol is allowed to be brought in, but is available for purchase.
Seating options including picnic grounds, chairs, picnic tables and intimate cabaret seating.
Kids 17 and under are free. Marin Symphony & The Magic Flute will host the Kid Zone, hosting an instrument petting zoo for the little ones.
Georgi & Willow's pop-up shop will offer country festival clothing afor sales nd add to the full Marin community experience.
Fed up with hunger? Bring a non-perishable food to add to JCFS food barrel & help feed Marin's needy.
The Kanbar Center for the Performing Arts is the Performing Arts Department within the Osher Marin Jewish Community Center in San Rafael, California. All are welcome; no membership is ever required to attend. The Center is a long-standing Marin non-profit, centrally located in Marin County and just ¼ mile east off Hwy 101.
2014 Summer Nights
7/12 –African Music Night:
Sierra Leone's Refugee All Stars – African Dance - Sol Food
7/19 – Pacific Island Night:
HAPA, Hawaiian Dance – Mauna Loa Hawaiian BBQ
7/26 –Gypsy Rock:
Diego's Umbrella – Israeli folk Dancing – Millers East Coast Deli
8/2 – Country Western/Americana:
The Good Luck Thrift Store Outfit – Country Two-Step – Casa Manana
8/9 – Indie Folk Rock:
Blame Sally – Yoga! – Sol Food