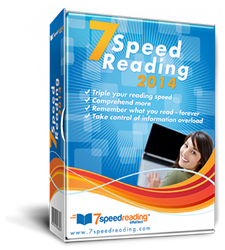 Pople don't often realize how much room for improvement there is for in their current reading skill level.
New York City, NY (PRWEB) May 27, 2014
eReflect reports the publication of a new review of its program, 7 Speed Reading™, provided by Olivia Collins of Eton Digital. The reviewer states that she has observed that people don't often realize how much room for improvement there is for in their current reading skill level, and she notes that reading faster is something that can be easily achieved if a person has the right software to practice with.
In her review, Collins explains the main features that a high-quality speed reading software ought to have, including a wide range of different texts to practice with, and structured training lessons for all reading levels. The reviewer also mentions that any such software should be user-friendly, have the latest technology-driven features, and offer progress reports so that users can monitor their learning curve.
Collins confirms that 7 Speed Reading™ is in fact a software system that offers these features and technologies and thus allows people to improve their reading skills. In her software review, Collins confirms that 7 Speed Reading™ has been featured numerous times as the number one choice on prominent review sites like Software Review Boffin and Top Ten Reviews, and has had a long record of favorable reviews and performance scores. Top Ten Reviews and Hack My Study are two other authorities that have reviewed 7 Speed Reading™ and have reached favorable conclusions on its efficiency in improving speed reading skills. Collins advises people who wish to save time and become more efficient readers to give 7 Speed Reading™ software a try. For individuals interested in improving their reading skills, the review also provides a speed reading download link where readers can learn more about the software's features and resources.
Given the credibility of the software's history, and the high marks it has received in many other appraisals, Collins' review at Eton Digital concludes that 7 Speed Reading™ is the software that can best help people speed read and learn to master this essential skill easily and quickly.
************
For more information about the benefits of using 7 Speed Reading, please visit the official website at http://www.7speedreading.com.
About 7 Speed Reading™
7 Speed Reading is the only modern speed reading software that uses the latest technology to produce superior results.
The software provides its users with a new way to master speed reading that guarantees three times the reading speed along with improved memory and comprehension.
The software is poised as the most comprehensive speed reading system anywhere. It contains seven learning strategies, fifteen software activities, video training, advanced tracking capabilities and many more exciting features.