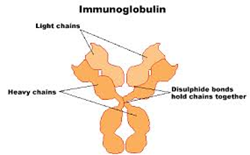 Immunoglobulin @ EurekaMag.com
Mannheim, Germany (PRWEB) May 27, 2014
EurekaMag.com has published 31,900 articles on the importance of immunoglobulins for identifying and neutralizing pathogens such as bacteria and viruses. The site's research category covers all articles on the two physical forms of immunoglobulin, the soluble form that is secreted from the cell, and the membrane-bound form that is attached to the surface of a B cell. The Life, Earth & Health Sciences Research Section 29 contains a subset of 2,420 references focussing on the diversity of antibodies allowing the immune system to recognize a wide variety of pathogen antigens.
The Life, Earth & Health Sciences Research Chapter 28214 presents multiple studies demonstrating interactions between immunoglobulins and pathogens including studies on the effects of immunoglobulin and sera from newly diagnosed type 1 insulin dependent diabetic patients on glucose induced insulin release in human islets of Langerhans, interferon induction and suppression of the in vitro immunoglobulin M response by pertussis toxin, immunoglobulin allotype suppression in rabbits, low immunoglobulin G or immunoglobulin A as an indicator of poor prognosis of acute lympho blastic leukemia in childhood, and on the linkage relationship between complementarity determining and framework segments of human immuno globulin variable regions.
The most important and, consequently, most read articles on immunoglobulins at EurekaMag.com include references on isolated immunoglobulin hypo gamma globulinemia in acro dermatitis enteropathica correction with zinc therapy, induction of human immunoglobulin E synthesis by a factor derived from T-cells of patients with hyper-immunoglobulin E state, isotype specific regulation of immunoglobulin E synthesis and its perturbation during irradiation enhanced immunoglobulin e synthesis, and on iron and B-cell differentiation effect on secretion of immunoglobulin A and immunoglobulin M by human cells.
Established in 1998, EurekaMag.com is a publisher of references in biology, in the applied life sciences agriculture, horticulture and forestry, in the earth sciences, in the environmental sciences, and in the medical and health sciences. The site currently contains a total of 36.9 million bibliographic references and 20.8 million abstracts from as early as 1703.
The site also features expert literature searches on user-requested biological, geographical and health subjects, a mobile version for smartphones and frequently updated accounts at Twitter, Facebook, LinkedIn and Google+.