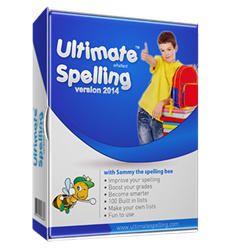 The software has been assessed on a range of capabilities, including features, extra resources, help and support, and progress reports availability.
New York City, NY (PRWEB) May 28, 2014
eReflect's spelling software, Ultimate Spelling™, has received numerous appraising reviews over the years by respectable authorities and individuals. Last year, TopTenReviews gave Ultimate Spelling™ a 9.9/10 score for its efficiency and quality of practice material in helping people learn how to spell.
For 2014, TopTenReviews posted its latest ranking of spelling software, and they rank Ultimate Spelling at the top spot with a total score of 9.88. The software has been assessed on a range of capabilities, including features, extra resources, help and support, and progress reports availability.
More specifically, Ultimate Spelling™ got a 10 out of 10 score in the first three categories mentioned above. One of its most prominent features, its over 160,000 word database, is another feature that pushed Ultimate Spelling™ at the top spot.
User-friendliness, the ability to adapt to individual styles of learning, and extensive word definitions are other features highlighted and duly acknowledged by the reviewers at TopTenReviews. In terms of additional resources available, TopTenReviews gives the system a 100% resources value since it allows users to print word lists, worksheets, and flashcards so that learner can practice their spelling when they're away from their computer.
eReflect's better spelling software is the result of rigorous research. It has been designed by language experts and its integrated approach to spelling learning ensures the user makes the most out of its resources and features without having to spend hours on end on practice and review.
The software ranking graph presented by TopTenReviews clearly indicates Ultimate Spelling™'s superiority and undeniable effectiveness in improving orthography for all kinds of audiences, from ESL students to native speakers of the English language, and for children, college students, and older citizens alike.
Apart from the general spelling software rankings, TopTenReviews also offers detailed reviews of all top three software systems on their 2014 list, so that interested readers can learn more about each software's features, weaknesses, and unique benefits.
The TopTenReveiws.com spelling software review makes eReflect proud that its software has been approved by a respectable review site that thousands of people trust and consult daily.
***********
For more information about how Ultimate Spelling software can improve spelling performance for you and your family, please visit the official website at http://www.ultimatespelling.com.
About Ultimate Spelling™
Ultimate Spelling provides a modern and easy to use spelling software that has been designed with one goal in mind – making children want to learn.
It is a fast and easy way to master even the most complicated spelling, without the need to write long lists or complete boring tests.
In fact, Ultimate Spelling provides more than just spelling help. It is a complete educational resource that boosts all level of a child's literacy.
Containing a personal computer tutor, Ultimate Spelling is the most realistic step-by-step guide to flawless spelling ability.