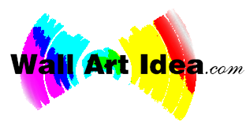 Nice oil painting, good quality. Arrived fast. By Musina. May 13, 2014.
(PRWEB) May 28, 2014
WallArtIdeal, a popular online art store of hand painted wall art, announced its special offers on oil paintings, print on canvas and wall stickers. Now, customers can buy their cherished canvas art at WallArtIdeal with great discounts, up to 70% off.
From home décor items such an oil painting, print, wall sticker to even metal and canvas wall art, WallArtIdeal is making little imaginations soar. Already gaining attention nationwide, parents are calling WallArtIdeal a unique family experience. It is also being coined not just personalized home décor, but emotional home décor. "With the newly designed WallArtIdeal we are doing more than creating a place for up and coming artists to display oil paintings, prints and wall stickers, we are in essence, creating a new social platform for art lovers alike to mold and shape the next generation of contemporary art," stated Joseph, WallArtIdeal's CEO. "Here at WallArtIdeal, we are thrilled to be a part of such a positive artwork and health initiative. It is always our goal to help place artwork that engages the eye, imagination and spirit."
Canvas print service WallArtIdeal produces top-grade custom canvas prints that turn homes and offices into galleries. Backed by a 110% Price Guarantee, it offers stunning custom photo art printed in lustrous colors and solvent-free inks at competitive prices.
"A customized canvas print is a memento that lasts a lifetime. Our competitive prices help our customers celebrate their memories for a bargain," Joseph said.
WallArtIdeal is an online canvas printing service offering custom-made photos on canvases already stretched on the frame. They offer the lowest prices and highest quality on the web, backed by their 100% Money Back Guarantee.
WallArtIdeal is one the web's leading distributors of high-quality wall art. With more than 2000 wall décor combinations to choose from in stock at all times, the online retailer has one goal: to make it easy and affordable for people to transform their space with hand painted art. Recognized as a premier shopping destination for hand painted fine art reproductions, WallArtIdeal has expanded its offerings to include hand painted and hand carved decorative ceramic tiles and high-quality original canvas art prints.
For more information, please visit http://www.wallartidea.com/.