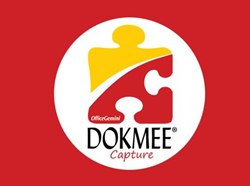 Dokmee Capture is not only a rebranding of Diamond Vision but a re-written version of Diamond Vision
Houston, Texas (PRWEB) May 30, 2014
Office Gemini, a leading international software company specializing in document management and scanning technologies, has today announced that Diamond Vision will be rebranded under the Dokmee banner. As a result of this, Diamond Vision will be renamed Dokmee Capture, a move which unites Office Gemini's products under one cohesive and recognizable brand identity. The revamped and rebranded document scanning software will continue to provide the same reliability with the benefit of additional new features.
According to Boris Roy, Office Gemini's CEO, "Dokmee Capture is not only a rebranding of Diamond Vision but a re-written version of the Diamond Vision architectural platform. What started as a re-write and re-organization of the Diamond Vision product has now grown into Dokmee Capture. With a focus on user friendliness, feature flow and efficiency the new graphical user interface is phenomenal and fits right into the Windows 8 style."
Designed to maximize efficiency and manage costs, Dokmee Capture transforms the scanning process into an assembly line that can be tailored to specific needs. It provides users with the ability to separate the scanning, quality control, indexing and exporting processes into independent tasks that can be controlled simultaneously by different users, yet allowing centralized management of the whole process. In addition, it offers unlimited scanning with no per click charges, automated data capture options and unmatched reporting and auditing tools.
With Dokmee Capture, the manual log process is eliminated as the built in reporting tool allows managers to track productivity and profitability automatically. The product also provides editing tools and practical time saving, shortcut options. This is the ideal product for scanning service bureaus, centralized scanning departments within large corporations, or companies looking to convert a large backlog of files.
About Office Gemini
Office Gemini is an international software manufacturer focused in the document management and document scanning industry. Office Gemini distributes its software products through a vast worldwide network of value-added resellers (VARs). From great software products and implementation assistance to strategic document management and scanning consulting services, Office Gemini is able to provide a wide range of services to End Users and VARs equally. Office Gemini's sales and support specialists are not only experts on internal software products, but are also very knowledgeable about the industry as a whole and can help with complementing software and hardware products. The two flagship products, Dokmee and Dokmee Capture (formerly Diamond Vision) are used by thousands of customers in more than 30 countries and are available in several different languages. For more information about Office Gemini, please visit http://www.officegemini.com for more information on Dokmee visit http://www.dokmee.net solution.