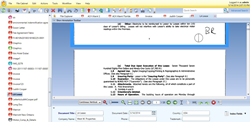 The ability to scan a document to a phone, without the use of a computer.
Houston, Texas (PRWEB) May 28, 2014
Office Gemini today announced the latest version of Dokmee, the company's powerful solution for small and medium-sized organizations seeking a comprehensive document management solution. Dokmee 4.7.2 offers more functionality than any previous releases and is accessible via a PC, Mac, iPhone, Android and Windows Phone 8.
"We're pleased to deliver this new release of Dokmee as we believe it meets the very high standards we set for ourselves in creating solutions that cover the entire spectrum of document management." Said Boris Roy, CEO of Office Gemini
"Our R&D team has worked solidly to create a truly unique offering that allows information professionals to simplify and consolidate the document management process from start to finish. We're committed to helping our customers improve operational efficiency by making it possible to seamlessly search, scan and share content while on the move." added Boris Roy
For Smart Document Management on the go!
Office Gemini brings its document management solution to the next level with a combination of reliable, time saving features that will enhance productivity and ease of use.
Dokmee guarantees improved readability with its enhanced image capture while the ability to merge multiple file formats into a single PDF makes tasks faster and easier than ever. For optimal performance and fluidity the latest software versions are updated automatically.
As the trend toward an increasingly mobile workforce continues, Office Gemini has developed a mobile compatible solution that can give companies the competitive edge that is needed in today's market.
Features of Dokmee 4.7.2:

Image scrolling: fluid and simple to use, adapts to individual screen sizes.
Backup of research documents.
Ability to scan a document to a phone, without the use of a computer.
Ability to convert three files of different formats into a single PDF file while keeping the original files.
Virtual printer: Conversion and printing of PDF document imported into Dokmee.
Automatically download new versions of Dokmee.
Create a free account from the mobile application.
Price and Availability
The new Dokmee is available now and the price remains unchanged from the previous version. The update is automatic for users.
For more information about Office Gemini, please visit http://www.officegemini.com for more information about Dokmee please visit http://www.dokmee.net
About Office Gemini
Office Gemini is an international software manufacturer focused in the document management and document scanning industry. Office Gemini distributes its software products through a vast worldwide network of value-added resellers (VARs). From great software products and implementation assistance to strategic document management and scanning consulting services, Office Gemini is able to provide a wide range of services to End Users and VARs equally. Office Gemini's sales and support specialists are not only experts on internal software products, but are also very knowledgeable about the industry as a whole and can help with complementing software and hardware products. The two flagship products, Dokmee and Diamond Vision, are used by thousands of customers in more than 30 countries and are available in several different languages. For more information about Office Gemini, please visit http://www.officegemini.com for more information on Dokmee visit http://www.dokmee.net solution.