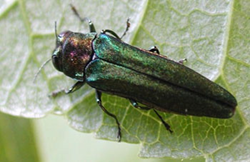 West Chester, PA (PRWEB) May 27, 2014
It turns out there is such a thing as a free lunch. On Friday June 6 from 10:00am until 2:30pm, arborists, landscape contractors and Plant Health Care professionals are invited to American Arborist Supplies 882 S. Matlack Street, Unit A, West Chester, PA, to enjoy a free lunch, a trade show and a seminar on emerald ash borer (EAB) management.
While enjoying lunch, attendees can "test drive" the latest Stihl chainsaws and other handheld power equipment, and check out the high quality climbing saddles from Weaver Leather, ropes from New England Rope/Teufelberger, and ArborJet equipment and supplies for all plant health applications. Attendees can also attend a seminar on EAB prevention and treatment. The insidious EAB that has destroyed so many ash trees in other parts of the country has now begun attacking trees in Philadelphia and eastern Pennsylvania.
The seminar will be conducted by representatives from ArborJet, which manufactures TREE-äge®* systemic EAB prevention and control material, as well as the equipment for injecting the material directly into ash trees. TREE-äge can only be sold to licensed pesticide applicators. Attending this seminar will give attendees a head start over your competitors in the fight against the EAB.
CEUs (Continuing Education Units) have been approved by the International Society of Arboriculture for Certified Arborists, Board Certified Master Arborists (Science & Management), Certified Tree Workers (Climbers & Aerial Lift Specialists) and Certified Municipal Specialists. Licensed pesticide applicators should check with their state licensing agency to see if the seminar qualifies for continuing education credit.
Although there is no charge to attend the trade show, seminar and lunch, reservations are required for the seminar. Reservations can be made by calling 800.441.8381 or 610.430.1214 or by emailing info(at)arborist(dot)com by Tuesday, June 3.

©2014 Arborjet, Inc. Important: Always read and follow label instructions. Some crop protection products may not be registered for sale or use in all states or counties. Please check with your state or local extension service to ensure registration status. TREE-äge® Insecticide is a Restricted Use Pesticide and must only be sold to and used by a state certified applicator or by persons under their direct supervision. TREE-äge® is a registered trademark of Arborjet, Inc.