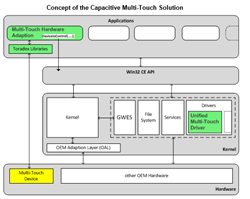 (PRWEB) May 27, 2014
Toradex developed a new architecture called Capacitive Multi-Touch Solution that allows fast integration of virtually any multi-touch panel and associated hardware with Toradex's Windows Embedded Compact BSP.
The key components of the "Capacitive Multi-Touch Solution" are as follows:

The Unified Multi-Touch Driver which is implemented as a driver, and runs in kernel mode:
This driver is provided by Toradex and does not access any hardware, but only reacts to IOCTL inputs.

The Multi-Touch Hardware Adaption which is implemented as an application:
This code communicates with the touch hardware and forwards the information (touch positions and status) to the Unified Multi-Touch Driver via IOCTLs.
To simplify hardware accesses, Toradex provides free software libraries, e.g. for i2c and SPI communication.
The main advantage of this concept is that the whole communication to the "Multi-Touch Device" is implemented as an application. Because Toradex offers a source code example of the "Multi-Touch Hardware Adaption," a customer can easily adapt this example to any multi-touch hardware.
All source code and associated documentation is publicly available in the following link: http://developer.toradex.com/knowledge-base/capacitive-multi-touch-solution.