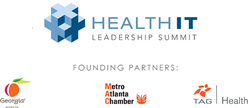 The Summit will offer attendees a full day of informational sessions, exhibits and networking opportunities. It will also include special awards
Atlanta, Georgia (PRWEB) May 26, 2014
Health IT leaders and innovators in Atlanta and across the nation will come together Thursday, Nov. 20, 2014, for the 5th annual Health IT Leadership Summit. More than 700 attendees representing industry, education, government and healthcare providers are expected to attend. Last year's event, held at the historic Fox Theatre, saw record attendance.
"We are excited to once again host the Health IT Leadership Summit in Atlanta," said Turner Taliaferro Smith, Healthcare Development/Regulatory Affairs at Rubbermaid Healthcare and chairman of this year's Summit. "This year's event will be held at the beautiful Renaissance Atlanta Waverly Hotel & Convention Center, offering more space and a convenient location to coincide with our 5th anniversary. We are especially excited McKesson is our headline sponsor."
"With its focus on showcasing innovation and sharing best practices, the Health IT Leadership Summit inspires attendees to make the business of healthcare run better, which is what we strive for every day at McKesson," said Robert Hendricks, Chief Technology Officer and Chief Information Officer at McKesson Technology Solutions. "We look forward to joining other health IT professionals to network, learn from one another, and celebrate this year's IT achievements."
The Summit will offer attendees a full day of informational sessions, exhibits and networking opportunities. It will also include special awards, including the Intel Innovation Award; and the Metro Atlanta Chamber Phoenix Awards for Entrepreneur Startup Company of the Year, Emerging Company of the Year, Community Service Partner of the Year, and University Advancement of the Year. The Health IT Student Innovation Award, which recognizes student health IT achievements across Georgia, will also be presented.
About the Health IT Leadership Summit
The Health IT Leadership Summit was founded in 2010 by three organizations to support the growth of the health IT industry: the Georgia Dept. of Economic Development, Metro Atlanta Chamber and the Technology Association of Georgia's Health Society. To learn more about this year's Summit, including information regarding sponsorship and registration, please visit http://www.HealthITLeadershipSummit.org.
Media Contact:
Wendy Alpine
404-641-6170
wendy(at)alpinepr(dot)com