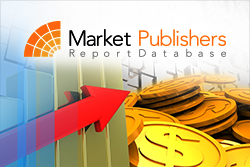 London, UK (PRWEB) May 27, 2014
Market Publishers Ltd and Greystone Research Associates signed a partnership agreement for quality market research promotion on the Internet. MarketPublishers.com is now authorised to distribute and sell research reports elaborated by Greystone Research Associates.
Commenting on the recent partnership agreement, Natalie Aster, Assistant Manager at Partners Department, said: "Greystone Research Associates is a recognised medical technology company focused on the areas of product commercialization, medical market strategy, market analysis and venture development. Its market research publications contain timely and authentic information on specific market segments, aiming to equip customers with accurate market intelligence to lay out effective marketing plans and reach their financial goals." Furthermore, she added: "We believe in building a strong and long-term partnership with Greystone Research Associates, which also cannot but bring benefits to our valued customers worldwide."
In-demand Market Research Report by Greystone Research Associates Include:
Drug Injection Devices to 2018. The recent decade has witnessed a shift of the types of approved injectable drugs, various diseases they target, and also the devices used to deliver drugs. The shift has provoked certain changes on different levels of the healthcare sector. The injectable drug market has witnessed a considerable increase in the level of device/drug integration, as specialized injection devices and prefilled syringes proliferate in response to economic and safety challenges posed by recombinant protein drugs. Meanwhile, administration of injectable drugs has moved increasingly from healthcare facilities and practitioner offices to patient homes. The in-demand report dissects the main product, therapeutic and regulatory issues related to injectable drugs across 10 major therapeutic and disease classes, therefore, providing a profound insight into the dynamics of this evolving landscape. The study offers a detailed guide to the world drug injection devices market, contains a summary of the existing technologies and products, touches upon various device options, discusses the major market aspects, outlines and features the industry's key opportunities, and investigates the market's future growth prospects …
More details on the publisher and their research reports can be found at Greystone Research Associates page.