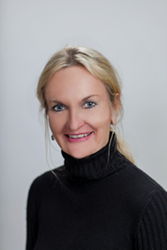 As hard as it sounds, this random "accident" that had terribly changed her life, was accepted as a challenge and a learning experience. This realization was the seed from which the whole idea of Fun™ Therapy grew.
(PRWEB) May 28, 2014
Integrated Health Yoga Therapy's (http://www.ihyt.org/) inquiry into the versatility and adaptability of yoga therapy has entered exciting new territory. The remarkable range of experience and research brought to behavioral health by faculty member Dr. Kathryn Shafer, has led her to almost every corner imaginable in the related worlds of yoga therapy and psychotherapy. For over 30 years she works with families and individuals of all ages negatively impacted by mindbody 'dis-ease' such as mood disorders, asthma, cancer, heart disease, and the addictions.
Dr. Shafer is a Licensed Psychotherapist, Certified Addictions Professional, Certified Yoga Instructor, Certified Play Therapist, and a LifeForce Yoga Practitioner. She completed her doctorate designing and conducting a pioneering subtance abuse training program in the former Soviet Union. She as a clinician, professor, administrator, and consultant for mental health and substance abuse treatment organizations in The United Sates and abroad.
Speaking at conferences and as a guest on radio and television shows, Dr. Kathy discusses topics pertaining to appropriate application of mindbody practices self care and behavioral health.
Dr. Kathy is currently an educator, author, and clinician in private practice in Southeast Florida, at her office and yoga studio Limitless Potentials Inc (http://www.funtherapist.com/). Here she works individually and in groups with teenagers, couples, and adults impacted by addiction, abusive relationships, anxiety, and depression. An asthmatic herself, she is the coauthor of Asthma Free in 21 Days: The Breakthrough Mindbody Healing Program (HarperCollins February 2000).
Providing a tremendous variety of the adaptability of yoga therapy and its ability to function as an adjunctive therapy, Dr. Kathy demonstrate how yoga practices cooperate with a wide variety of medical, psychiatric, and health modalities in the broader holistic pursuit of mindbody health. One of the programs Dr. Shafer has developed is Fun™Therapy Program which assists the patient in creating a complete self-care program utilizing simple, direct, mind-body exercises. Fun™Therapy involves 3 steps: 1. Focus: Stop and identify the obstacles that are limiting you; 2. Undo: Take responsibility and shift patterns of thought that you yourself are creating; 3. Now Act: Transform those situations that limit your freedom and restrict your growth, and do something different, create new habits for living. This emphasis on personal responsibility, accepting life's difficulties as challenges and opportunities for learning is something Dr. Kathy has extended to all aspects of her practice: for addictions, interventions for psychotherapy, yoga instruction, and her own life.
One of the inspirations of this approach was a traumatic accident Kathryn had in 1994 while training for the New York Marathon. She was hit by a drunk driver and told in the trauma unit she might never walk or run again. No trauma specialist had been provided and her nurse entered to find her sobbing, experiencing a breakdown from the shock of this life-changing news. Instead of holding her hand or feeling sorry for her, the nurse gave her tough love, basically telling her "Get over it!"
Strangely this was just what Kathryn needed to hear. Her tangle of emotions and fears was holding her back from finding a positive response to her difficult situation. As hard as it sounds, this random "accident" that had terribly changed her life, was accepted as a challenge and a learning experience. This realization was the seed from which the whole idea of Fun™Therapy grew.
The key to attaining the life you want, according to Dr. Kathy, whether you are a recovering addict, cancer patient, trauma survivor or just struggling with bad habits, is to be wholly in the present and face it with a clear mind and heart. She describes 4 types of thinking that get in the way: denial (refusal to take responsibility), expectation (making up stories about the future), (over)analysis (over thinking, depending on experts to solve our own problems), and doubt (dwelling on stories from the past). All of these take you out of the present, and when in the present, according to Dr. Kathy, the opportunities are limitless: we can truly have fun.
Remaining in the present is not as easy as it might sound. When doubts and fears, return, the inner committee "wakes up" from new shifts in life, and sometimes need the help of a professional such as Dr. Shafer to "remember" and create a set of self-care routines, involving covering all aspects of life. Drawing practices from yoga, psychotherapy, and a variety of other disciplines, all are used to occupy and stay in the present.
For more information on Dr. Shafer, check out the IHYT faculty page at http://www.ihyt.org/#!faculty/cjg9.
Also check out http://media.wix.com/ugd/605d37_34bbf7e4a7b34a9b888852ae90a901d5.pdf for info on the exciting new IHYT summer training program Somatic & Yoga Therapeutics for Addiction featuring Dr. Shafer July 27-28.
About Integrated Health Yoga Therapy
IHYT is a yoga therapy school for a wide range of health professionals whose practices might benefit from the skill-sets and philosophy underlying therapeutic yoga. Yoga therapy is becoming more and more recognized and utilized by the medical-scientific community as a safe and effective complementary therapy and treatment in a wide range of conditions. IHYT offers a carefully selected curriculum of evidence-based educational programs taught by faculty who are leaders in their respective fields, as outlined on our website at http://www.ihyt.org/.