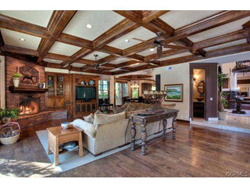 "San Juan Capistrano is a community filled with unique beautiful homes and an unmatched heritage and our attention to detail has been able to help a lot of families find their home in San Juan," said Rick Brotherton, VP, Marketing, First Team Real Estate
Irvine, CA (PRWEB) May 29, 2014
Real estate in historic and beautiful San Juan Capistrano has seen incredible price growth of better than 36% over the past thirteen months and leading this growth has been First Team Estates - Christie's International. Recognizing the growth in the market and the uniqueness of the homes found in this picturesque community, the Orange County Register reported on a major estate offered by First Team Estates - Christie's International.
"With our recent exclusive affiliation with Christie's International, First Team Estates buyers and sellers have been able to take advantage of our truly unique online, national, and now international resources to identify opportunities and values," said Rick Brotherton, First Team Real Estate Vice-President, Marketing. "In San Juan Capistrano that has translated into incredible 54% growth in sales compared to this time last year."
Using data from publicly available databases on San Juan Capistrano real estate over the last twelve months, First Team Real Estate and it's luxury division, First Team Estate's - Christie's International, experienced a tremendous increase in sales of greater than 54% when compared to the same period in 2013.
"We spend a great deal of time with our agents and professionals in training and giving them the resources they need to structure great opportunities for buyers and sellers," explained Brotherton. "San Juan Capistrano is a community filled with unique beautiful homes and an unmatched heritage and our attention to detail has been able to help a lot of families find their home in San Juan."
In a feature article on Sunday, April 27, the Orange County Register detailed an incredible 2.9 acre equestrian estate in San Juan Capistrano's gated Stoneridge Estates at 30081 Hillside Terrace. More information on the home can be found here http://ow.ly/x0K06.
For the complete Orange County Register article, click http://ow.ly/x0Lwu.
ABOUT FIRST TEAM ESTATES - CHRISTIE'S INTERNATIONAL
First Team Estates - Christie's International Real Estate specializes in selling Orange County's most unique and exclusive properties. As part of the luxury division of Southern California's most trusted real estate company, First Team Real Estate, First Team Estates has been recognized for its unparalleled level of service for estate buyers and international buyers in major media in Asia and the United States. In 2011, 2012, and 2013 First Team Estates - Christie's International Real Estate was recognized as part of the Best Real Estate Company by the annual Orange County Register survey of 100,000 Southern California households. We can be reached at (888) 236-1943.