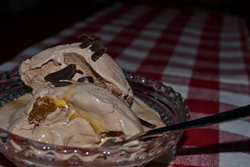 Sometimes I see great looking produce at the market. Then I start thinking--what could I add to make that a fantastic ice cream?
St. Augustine, FL (PRWEB) May 28, 2014
Summers in Florida are a little bit cooler thanks to the owner of the Bayfront Marin House, a waterfront bed and breakfast in St. Augustine, Florida.
Mike Wieber pulls out his ice cream maker, his creativity, and a whole bunch of fresh flavors every week in July, August, and September. On Wednesday nights, he shares his latest frosty creation with his guests.
Wieber has been sharing his homemade treats with guests at his bed and breakfast since 2010. "Everyone likes ice cream," he says. "Add it to a warm Florida day, our waterfront lcoation, and you have the end of a great day on vacation."
Guests of the St. Augustine bed and breakfast will be treated to concoctions like Girl Scout Shout Out (a chocolate ice cream base with marshmallow, caramel, and chunks of Samoa cookies); You're a Peach Fruit Cobbler (peach ice cream with a swirl of caramel and sweet pie crust pieces); and Cinnamon Toast Crunch (a cinnamon cake batter base with pieces of homemade snickerdoodles).
"I don't have a plan for what I'm making throughout the summer," says Wieber. "I usually get inspired on Monday or Tuesday--either I have a craving for a particular flavor, or I see great looking produce at the market. Then I start thinking--what could I add to that to make a fantastic ice cream?"
Last summer's staff favorite was Chocolate Cheesecake Crunch (a chocolate cheesecake base with Oreo sandwich cookies), closely followed by Gimme Some More S'mores (a chocolate ice cream with chocolate covered graham crackers and a marshmallow swirl). Wieber says he wasn't surprised by the choices: "As a bed and breakfast owner, I know that chocolate is a surefire hit--and chocolate mixed with cheesecake is even better!"
Ice cream will be available every Wednesday night from July through September. It will be served as part of the bed and breakfast's two-hour happy hour, which also includes a selection of appetizers, beers, wines and homemade red and white sangria. "Our happy hour is pretty well known," says Wieber. "But the ice cream Wednesdays make it extra special."
More Information about the Bayfront Marin House
The Bayfront Marin House in Saint Augustine, Florida is a 15-room, luxury bed and breakfast inn. Located on the Matanzas Bay, the bed and breakfast offers stunning views of the water, along with a hot southern breakfast each morning, daily happy hours, delicious desserts, and the highest levels of personalized customer service.