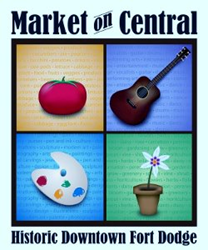 Cheryl O'Hern, Market Manager .... "To nurture a community of consumers and growers who see food source for its economic and nutritional value is part of Market on Central's Mission Statement."
Fort Dodge, IA (PRWEB) May 27, 2014
Visitors to Market on Central - Farmers Market in Historic Downtown Fort Dodge, IA will benefit from purchasing local food that has exceptional taste and freshness. By purchasing locally grown produce and foods, it strengthens the local economy, supports family farms, safeguards the family's health, and protects the environment.
Buy Fresh Buy Local as an organized campaign under the colorful BFBL label began in 2003. Iowa was one of the original locations. The first chapter served the Black Hawk County area and was led by Kamyar Enshayan at the University of Northern Iowa. Now there are chapters across the state working with numerous colleges, universities, Extension offices, Resource Conservation and Development offices and other community groups to bring fresh local foods to the forefront.
On the national level this grassroots effort has spread to nearly every state and region of the country including Alaska and Hawaii. BFBL Chapter Affiliates everywhere work to connect consumers with the freshest, most delicious locally grown and locally produced foods available. Through outreach education, fun events, festivals, farmers markets and by supporting local food system revitalization chapter members are hard at work
expanding the availability and quality of locally grown and produced foods. Buy Fresh Buy Local Chapters are coordinated nationally by FoodRoutes Network, a nonprofit organization based in Pennsylvania. FoodRoutes Network is a national nonprofit organization that works in partnership with Buy Fresh Buy, Local chapters across the country to help these groups increase their capacity to design, launch, and implement successful local food campaigns and market education initiatives.
FoodRoutes Network provides communications tools, technical support, networking and information resources to organizations nationwide that are working to rebuild local, community-based food systems. FRN is dedicated to reintroducing Americans to their food – the seeds it grows from, the farmers who produce it, and the routes that carry it from the fields to their tables.
"Market on Central's participation in the Buy Fresh Buy Local program strengthens our commitment to providing our visitors with the highest quality of fresh produce and products available." says Cheryl O'Hern, Market Manager. "To nurture a community of consumers and growers who see food source for its economic and nutritional value is part of Market on Central's Mission Statement."
As a Farmers Market, Market on Central is nationally recognized as the #76 of the TOP 101 Farmers Markets in the Nation by The Daily Meal and continues to grow and expand the number of vendors at each market.
The season for Market on Central is June through September on the 2nd and 4th Saturdays during those months. Each Market on Central also features educational food displays and information, entertainment that the entire family can enjoy and is located in the Historic Downtown District that has a wide variety of specialty shops for visitors to enjoy. Come for Breakfast, Stay for Lunch and Take Home Dinner.
Market on Central is a project developed in conjunction with the Iowa Great Places designation received by Webster and Hamilton Counties in 2010. The project provides a sense of place, a revitalization of the Historic Downtown District and as a small business incubator for the vendors that participate.