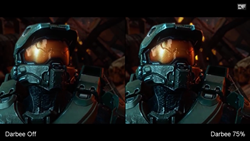 Santa Ana, CA and Beijing (PRWEB) May 27, 2014
DarbeeVision, creators of the leading immersive visual image processing technology, announces a partnership today with Galaxy Microsystems to bring DarbeeVisions's immersive visual experiences to the video game industry. Galaxy Microsystems is the manufacturer of the world's highest performing graphics cards.
DarbeeVision pioneered the science of computational imaging for consumer video, and its Darbee Visual Presence™ (DVP) technology enhances image detail, depth and gradation contrast in a way that keeps the fidelity of the image intact while creating an immersive gaming experience for the user. Leading Japanese audiovisual magazine "HiVi" has described DVP technology experience "like a magical super- resolving power."
"We're thrilled to partner with Galaxy to bring DVP-powered immersive experiences to the gaming industry," said Larry Pace, President of DarbeeVision. "Together we plan to create a new benchmark in realism for the graphics industry by combining our new kind of video processing with their hardware horsepower, to optimize the visuals for the best gaming experience available."
"This partnership will allow consumers to add DVP to a wider array of source devices and allow computer enthusiasts to take advantage of Darbee processing for all of their computer content," said Alex Lam, CEO of Galaxy Microsystems.
DarbeeVision and Galaxy Microsystems will be exhibiting at COMPUTEX Taipei, Nangang Exhibition Hall, Booth N0308, June 3-7.
About DarbeeVision Inc.
Formed in 2009 as a privately held company, DarbeeVision Inc. is headquartered in Santa Ana, California. DarbeeVision's mission is to redefine the world's relationship with digital images by bringing Darbee technology to every digital image display device -- no matter the application. DarbeeVision's Visual Presence and Reveal technologies do what no other imaging technology can do -- help the eyes see images the way the brain expects them to look. For information visit http://www.DarbeeVision.com.
About Galaxy Microsystems, Ltd.
Founded in 1994, Galaxy has grown exponentially in Hong Kong, Southeast Asia, China and Europe. After years of private labeling for many tier one brands in the US; in 2007 Galaxy entered the US etail and channel market. As consumer demand increased Galaxy entered the retail space in 2009 to help further distribute their aggressively priced high quality cards. For further information about Galaxy, visit http://www.galaxytechus.com.