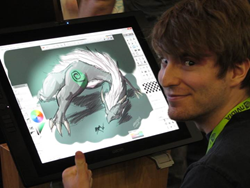 We're very excited to share with the community some of the amazing work being produced by our students. - Tyler Finley Marketing Manager CAT
Kelowna, BC (PRWEB) May 26, 2014
Centre for Arts and Technology is pleased to announce that it will be opening up its Kelowna Campus on Saturday, June 14 from 1:00 – 4:00pm for an interactive afternoon of demonstrations in Animation, Photography, Interior Design, and the cutting-edge new field of DSLR Filmmaking (also known as Digital Video Fusion Production). Faculty, all of which are industry leaders in these fields, will be on hand to answer questions from the public about current programs and the state of these industries in the Okanagan.
The community is invited to tour Centre's Kelowna campus, meet staff and instructors, enjoy door prizes, refreshments, demonstrations and presentations about the school's programs. Guests will also have an opportunity to hear from Centre's Finance Department about student loans, financing options, scholarships and more.
Event Details:
Saturday, June 14 from 1:00pm – 4:00pm
Centre for Arts and Technology – Meet in Main Reception (Landmark III Building)
1632 Dickson Avenue, Kelowna, BC V1Y 7T2
Space is limited; guests are asked to please RSVP online at http://digitalartschool.com/calendar-events/spring-interactive-open-house to reserve a spot.
Event participants will have an opportunity to get "hands on" during the interactive demonstrations, including joining in a character design challenge for Animation. Guests will also be able to learn about advances in equipment and facilities in these programs. Centre for Arts and Technology looks forward to having interested students and their families join this energetic and enjoyable afternoon of hands-on digital art and technology experience. The demonstrations and Q&A's will be geared towards high school students and their parents/family members, in addition to mature students who are interested in training for a career in the digital arts.
Tyler Finley, Marketing Manager for Centre for Arts and Technology's Kelowna Campus said: "If you are interested at all in the digital arts—from animation to photography and filmmaking to design—this is an event you won't want to miss. We're very excited to share with the community some of the amazing work being produced by our students, as well as some of the top leaders in industry who instruct at Centre for Arts and Technology. This is going to be an interactive showcase of some of very cutting-edge work that is going on in Kelowna right now, helping to contribute to the city's growing reputation as a technology hub. Come explore and take in everything that's going on at Centre."
Centre for Arts and Technology is a private digital arts training college delivering fully accredited certificate and diploma programs across a variety of arts and technology disciplines, with campuses in Kelowna, Halifax, and Fredericton. Programs are offered in the areas of animation, filmmaking, audio engineering, digital photography, graphic design, network security, fashion design, event management, interior design, and a variety of other programs. More information is available at http://www.digitalartschool.com.