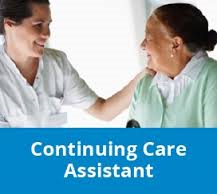 (PRWEB) May 27, 2014
Centre for Health Studies is motivated to ensure that all graduates from our programs find gainful careers after completion of their courses with us. Centre for Health Studies is extremely proud to announce a new partnership with Northwood that will be another incentive for current students and grads of the Continuing Care Assistant program.
Northwood has agreed to partner with Centre for Health Studies in an initiative aimed at helping graduates secure employment after graduation. Northwood will be offering $2000 Continuing Care Assistant tuition bursaries to selected students enrolling in the July Continuing Care Assistant program. Furthermore, Northwood guarantees employment following the Centre for Health Studies Continuing Care Assistant program in exchange for a one year employment commitment from the graduate. This is a wonderful opportunity for grads to feel confident about their financial stability upon graduation, and have a career they can look forward to. Grads can expect to learn all the hands on skills necessary while in school, and can be excited to put them to the test at Northwood once they graduate. The average wage for a Continuing Care Assistant in Nova Scotia is $17 per hour, often with other benefits over and above that as well.
Northwood provides 24 hour care, in-home care, retirement living and fitness programs designed to allow individuals needing care to regain some independence. Their vision includes empowering aging adults to live life to the fullest and flourish in a community of belonging, dignity and choice. This partnership between Centre for Health studies and Northwood promises to be beneficial to both parties, each reaping the rewards of this symbiotic relationship. But the real winners in this agreement will be the graduates of the Continuing Care Assistant program, with viable career options waiting for them upon graduation.
Centre for Health Studies is a specialised career college with campuses in Halifax, Nova Scotia, and in Fredericton, New Brunswick. Our professional career training programs include: Continuing Care Assistant, Dental Medical Office Administration and Veterinary Hospital Assistant. Our courses are targeted to meet growing industry demands allowing students to enter the job market with relevant, in-demand skill sets; making them highly desired by employers in a competitive job market. The Centre for Health Studies mission is to provide superior, career orientated certification programs that will prepare graduates to meet the needs and expectations of employers and to strive at all times to achieve excellence in training.