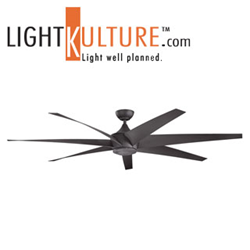 The clean lines and contemporary styling offer our customers a whole house solution, a fan for every room, inside and out.
Houston, TX (PRWEB) May 28, 2014
LightKulture.com is pleased to offer contemporary ceiling fans from Kichler. As a brand, Kichler is well known for their style and value in decorative and functional lighting. Kichler now offers a full range of decorative, performance ceiling fans to meet the demands of todays consumers. The value of Kichler's 2014 ceiling fan assortment is their comprehensive offering of creative solutions for staying cool. Kichler ceiling fans add design, light and comfortable air movement. By incorporating energy efficient DC motors, Cool Touch hand-held remote controls, limited lifetime warranties, wet or damp rated indoor/outdoor models, and a variety of Energy Star rated ceiling fans, Kichler can outfit every room in your home, inside and out. These fans offer air with flair, from 38" to 80". The powerful air movement is productive, even at lower speeds.
Kichler is on trend with the introduction of four new contemporary designs. The Lehr 54 and Lehr 80 offer 7 curved blades in either 54" and 80" blades sweep. This modern design is offered in Antique Satin Silver, Distressed Black, Coffee Mocha, Tannery Bronze Powder Coat, or White. The Lehr series is wet rated to be used indoors or outside. The 5 blade, 52" blade sweep Lucian fan has bold, strong lines. It is offered in Brushed Nickel or Olde Bronze, comes with 2 50 watt halogen bulbs, an opal glass diffuser or coordinated metal cap, to be used without a light. Kichler Cadence has streamline, industrial inspired detailing. This 54 " fan comes in Brushed Stainless Steel, Midnight chrome or Oil Rubbed Bronze. Cadence includes 2 50 watt halogen bulbs to be used with the white opal glass diffuser. A matching metal cap is also included, when no light in needed. Finally, the Ferron offers a unique, minimalist silhouette. This tailored, 60" angular 2 blade design will elevate the style of your home. office or commercial space.
For more information go to Kichler: http://www.lightkulture.com/brands/Kichler.html.
Stay Cool WIth Kichler Ceiling Fans, Now Available at LigthKulture.com
"The Kichler brand has alway stood for value and design. In recent years, their assortment has offered more contemporary designs which has been a big plus for many of our customer. We are pleased to offer the Kichler Ceiling Fan line. This year, Kichler has really stepped up their game. The clean lines and contemporary styling offer our customers a whole house solution, a fan for every room, inside and out. This is particularly appealing to our interior design clients who want to maintain a similar feel throughout the home. Every model comes in a variety of colors to to compliment every decor..As a contemporary specialists, my favorite new fan has to be the Lehr series. We are getting more calls for oversized contemporary fans, where there has been a real void till now. For a limited time we are pleased to offer a 10% savings on all Kichler fans," noted Susan.
About LightKulture.com
At LightKulture.com our mission is to offer the finest energy efficient contemporary lighting and light fixtures from around the world. We have assembled an exciting collection of the industries most innovative decorative and architectural lighting. We are proud to offer lighting solutions for both your home and work-life environments. Simplicity in design is complicated, function makes it last. Be inspired by our range of essential designs from well respected American and European manufacturers. In today's world, energy efficient lighting is as important as eco-friendly or green lighting fixtures, such as LED or CFL lighting. We offer the very best energy efficient lighting and light fixtures, both high value LED lighting fixtures and CFL lighting fixtures in modern and contemporary styles that provide quality, innovation and authenticity.
LightKulture.com
http://lightkulture.com
Email: sales(at)lightkulture(dot)com
Tel. 941-330-0422