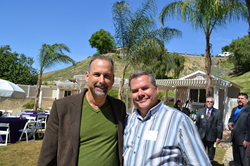 I had some personal issues in my life that baffled me. . . It finally came to the point I needed to take control of my life
Upland, CA (PRWEB) May 27, 2014
Since 1994 His House Addiction Treatment Center has been serving Southern California to help bring new hope to families and individuals suffering from addiction. Over the years the certified programs run by His House Rehab have grown and evolved, thus allowing for more people to be lead down the path of recovery. This growth has created the opportunity for expansion.
His House Rehab is a Christian based recovery program that looks at all aspects of an individual's life to ensure proper healing. The return to sober living is a difficult journey, and the counselors are all qualified and prepared to assist individuals in all aspects of life to make the transition successful. His House offers a variety of programs, in both residential and outpatient settings, ranging from relapse prevention, stress management, anger management, and recovery plan creation.
The new facilities being built will allow for, not only the creation of more jobs, but also the continued expansion of programs offered. With the unfortunate number of people battling addictions on the incline, there is even more of a need to offer reliable and effective programs designed to help stop such addictions. His House Rehab has a proven track record of helping those who want to become sober, and with this new expansion they will continue to do so.
As Dale, an individual who completed the program at His House Rehab, puts it, "I had some personal issues in my life that baffled me. It finally came to the point I needed to take control of my life. You can be able to resolve these problems and come out of this facility—His House Treatment Center—a changed person!" The change Dale speaks of is possible through the programs offered at His House Rehab. Dale's experience shows that the programs at His House are much more than just a detox. The programs offered are a springboard for a healthy life change.
If you or someone you love in the Southern California area is suffering from addiction and is ready for a fresh start, contact the professionals at His House Addiction Treatment Center today. The specialized, Christian treatments they offer address all aspects of addiction to help people heal and move on with a sober life. For more information, call 877-345-4138. While the first step towards sober living may be quite difficult, the caring professionals at His House Rehab will strive to ease the transition to a healthier lifestyle.