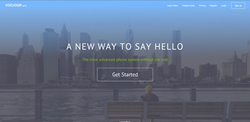 Santa Monica, CA (PRWEB) May 27, 2014
Vonjour, a new cloud based business phone company, has today announced that it has passed 1000 accounts from businesses spanning a diverse array of industries.
Vonjour allows any business to create an enterprise grade business phone system within minutes. The product is a seamless, lightweight way system for a whole company to connect personally with its customers.
"While our beta product represents just the first phase of our product development, it is clear from our early engagement and growth that there is a large demand for a more innovative and disruptive phone solution like Vonjour," says co-founder Daniel Tawfik.
Where previously businesses needed to get either on-site or hosted PBX solutions to get access to this level of connectivity, Vonjour can offer it all up immediately and powerfully. By this fall, Vonjour is planning to further step up its offerings to include even more customer support tools, making it—according to reports—"the most sophisticated business communications platform in the world."
With a powerful feature set and focus on providing a simple and delightful user experience, the company has doubled its month over month growth since its initial beta release in February.
The company is poised to make significant growth including exclusive partnership announcements with enterprise customers early this summer. In addition, the company continues to dedicate resources into product development to deliver considerable innovations to the telecommunications space.
To learn more about Vonjour and its business phone solution, visit Vonjour.com and sign up for a free account.
About Vonjour: Vonjour is a Santa Monica based company with a mission of being the center of all customer conversations. We provide a seamless, free, and light weight solution for an entire company to connect to its customers, while providing an unparalleled view of what customers are saying.