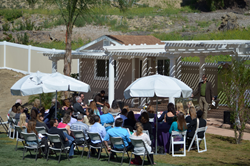 This Place Has Taught Me A Lot of Things That Other Rehabs Haven't. It's run by People Who Really Know Recovery and That Means A Lot to Me
Colton, CA (PRWEB) May 27, 2014
New Creation Treatment Center has announced its plan to expand the Women's Treatment Center in order to help more female addicts and alcoholics. New Creation's philosophy is that addiction is a disease that can be fatal if not treated and that complete abstinence is mandatory. The Women's Center treats addicted women utilizing the principle of gender specific treatment. Not only are the effects of substance abuse dissimilar, and in many cases more physically detrimental, for women than for men, but the origins of substance abuse and the treatment for it differ also. For instance, women are much less likely to seek treatment than men and much of the reason has to do with the stigma that is attached. Women, especially mothers, are more harshly judged when it comes to drug addiction and alcoholism. Along with the addiction comes an enormous amount of guilt and shame and many women try to hide the abuse or self-correct.
Many substance abuse treatment centers specialize in one aspect of treatment or another, however, New Creation offers a full array of services starting with detoxification. If you were to take a tour of the Women's Treatment Center in Colton, Ca, you would find full care for women including a separate facility for detox along with a residential facility for inpatient treatment and an aftercare program. The detox program is dedicated to providing a warm and caring environment using the latest treatment methods and a holistic approach designed to provide the individual with the tools for rehabilitation. In addition, we also can refer the client to a medically supervised detox facility for those who are in severe withdrawal.
The Women's Center continues treatment after detox with individualized programs that can include residential or full day treatment. Residential treatment is typically a 90 day program that begins with limited contact with the outside world and then gradually reintegrates the client into living substance free back at work, home, or school. The residential treatment facility also provides a 30 day program or a full day program that allows the client the full benefit of treatment while providing time in the evenings for familial responsibilities. This is especially important for women, for their self-esteem and the healing of their mind as well as their body. New Creation Women's Treatment Center doesn't stop there; in addition, it also provides a thorough aftercare program to guard against relapse and to provide support for a sober life.
Adrienne, a former client, has this to say about New Creation, "This Place Has Taught Me A Lot of Things That Other Rehabs Haven't. It's run by People Who Really Know Recovery and That Means A Lot to Me". If you would like more information about New Creation Women's Treatment facilities, please call (877) 264-9942.