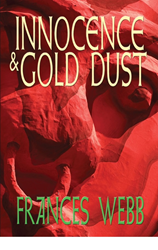 (PRWEB) May 27, 2014
Eutropius is an orphan who is castrated as a baby to increase his worth as a slave. And as a slave, he struggles with his lack of social and sexual power, which then turns into a lust for wealth and political power. Eutropius uses questionable methods to gain money and prestige.
As he works his way up, public outrage over such high standing for a eunuch threatens to knock him back down again. Scenes in this novel based on historical events surround crazy emperors, greedy politicians, well-meaning bishops and womanizing generals, giving readers a vivid look into a world they've likely never seen.
About the Author: Frances Webb is an award-winning writer living near Philadelphia. While traveling in Turkey, she absorbed Eutropius' geographical environment and Rome's declining culture. The writings of ancient and current historians supplemented this research.
Watch the Video Book Trailer: https://www.youtube.com/watch?v=eyLbUg6cgCs
INNOCENCE AND GOLD DUST (ISBN: 978-1-60911-340-7) is available for $19.95 and can be ordered through the publisher's website:
http://www.strategicpublishinggroup.com/title/InnocenceAndGoldDust.html or at www(dot)amazon(dot)com or www(dot)barnesandnoble(dot)com.
WHOLESALERS: This book is distributed by Ingram Books and other wholesale distributors. Contact your representative with the ISBN for purchase. Wholesale purchase for retailers, universities, libraries, and other organizations is also available through the publisher; please email bookorder(at)aeg-online-store(dot)com.
Strategic Book Publishing and Rights Co, LLC