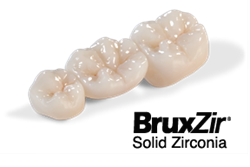 (PRWEB) May 28, 2014
The introduction of a new BruxZir® Shaded formulation provides restorations with improved translucency and color, closely matching natural teeth. This new material is excellent for creating cosmetically pleasing restorations for front teeth. The color penetrates the restoration all the way through, so any adjustments made prior to fitting will not result in shade changes.
BruxZir® Solid Zirconia is suitable for fabricating crowns, bridges, implants, and inlays and onlays, and a BruxZir® bridge is strong enough to be used to replace an entire arch of teeth. It is ideal for situations requiring a durable solution, and is a more aesthetically pleasing alternative to cast gold or metal restorations. Typical situations for its use include areas where occlusal space is too limited for conventional ceramic restorations, or for patients with bruxism.
Restorations are milled using the very latest CAD/CAM technology, before being sintered for two hours at 1530°C. Sintering ensures the finished restoration has optimum strength. The resulting crown, bridge, inlay or onlay is then glazed to give a smooth, natural looking surface. Each BruxZir® restoration fitted by Dr. Jonathan Penchas is backed by a seven year, free replacement warranty from Glidewell Dental Lab.
This innovative new product is quickly gaining accolades throughout the industry, and last year The Dental Advisor named BruxZir® as a Top Long Term Performer. Patients will find these restorations are strong, affordable and beautiful. The chip-resistant zirconia is glazed to a smooth surface which helps reduce plaque buildup.