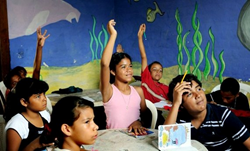 A 140.6 mile triathlon is a great way to raise awareness about the work our partners are doing to close the opportunity gap locally and around the world.
Philadelphia, PA (PRWEB) May 28, 2014
On June 29th, three teams of swimmers, cyclists and runners will join David Hersh, competing in a 140.6 mile triathlon. The effort is part of a campaign launched by The Endeleo Project, a non-profit Hersh founded with a fellow Temple Law graduate to increase access to educational opportunities for underserved populations around the world.
"Endurance races are a good way to raise awareness about the great work our partner organizations are doing," said Hersh. "I wanted this race to reflect the scale of our goals and the level of sacrifice and commitment our partners are making to help children every day. So it had to be big. Adding nine people to help spread the word is huge."
The Endeleo Project, which supports partners serving disadvantaged populations from Philadelphia to Kenya, certainly has big ambitions. The current campaign will help fund education projects for each of the organization's partners. For example, The Endeleo Project hopes to finance after-school and back-to-school programs for Face to Face Germantown, in northwest Philadelphia, the purchase of farm land for subsistence farming and vocational education in rural Kenya, and supplemental schooling in San Juan del Sur, Nicaragua.
The goal is not just financial, however. "In some way we are trying to change the way people see the world. Most of what we learn about the outside world is so negative: crime, poverty, war, disasters. We rarely learn about the positive, hopeful stories of great people doing great things for others. What's more uplifting and hopeful than people devoting their lives to ensuring that disadvantaged children have brighter futures? How different might we feel about the world if these were the stories that we saw every day?"
To make the connection between his organization's goals and his and his team's athletic feats, Hersh tracked down Robert Vigorito, the race director for Challenge Atlantic City. Says Hersh, "Challenge is a renowned international race provider putting on a great race right here in Atlantic City. Just as importantly, Bob was supportive from the beginning. He and the Challenge Family really seem to get what it's all about. Success as a charity and success as a triathlete is about dreaming big and making the sacrifices necessary to turn those dreams into reality."
Dreaming big comes easy to Hersh, but is he happy not to have to do it alone. Further details on their current campaigns can be found on their Crowdrise page. Videos about the campaign and The Endeleo Project's partners are available on YouTube. For general information about The Endeleo Project and its partners, visit endeleoproject.org, follow on Twitter @endeleoproject or on Facebook. David Hersh can be reached at david.hersh(at)endeleoproject(dot)org or 443.624.0825.