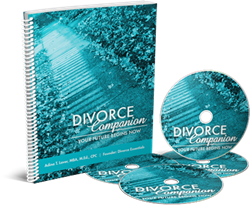 Divorce is not the end. It is an opportunity to transition to a life that can be happier and healthier.
Philadelphia, PA (PRWEB) May 28, 2014
In the Divorce Companion, her new interactive multi-media guide to a healthy divorce, Divorce & Relationship Coach, Adina Laver offers all the tools an individual or couple needs to achieve a healthy path through divorce.
With 50% of first marriages and 60+% of second and 70+% of third marriages ending in divorce, the term "healthy divorce" can leave many rolling their eyes at the absurdity of this apparent misnomer. However, with a deep understanding of the triggers that amplify fear during the divorce process, Laver offers a way for people to navigate this challenging transition with greater clarity and calm and significantly less financial cost.
"When we define divorce as a 'Failure,' then someone needs to own the 'F,' and divorce becomes about blame and fault. However, recognizing divorce as a sign of irreparable disequilibrium between two people means that there can be a change without all the shame," says Laver. "Divorce is always going to be challenging, but how much better it is for people to find their path through this demanding transition in a way that empowers and strengthens them rather than leaves them feeling alone and depleted."
To help individuals and couples pursue this healthy direction, Laver created the Divorce Companion. The Divorce Companion covers the entire divorce process including how to know if divorce is the next step, how to break the news, how to talk with the kids, how to know which legal method to pursue, how to hire a mediator or attorney, and how to prepare financially.
Recognizing that divorce is an emotional process as much as it is a legal and financial one, Laver also offers critical exercises that support divorcing individuals in finding their way through the fog produced by fear and building a healthy divorce support team. She even offers guidance in creating a 'coming out of marriage' ritual to meaningfully and ritually mark the end of marriage.
Designed with the support of a team of divorce experts, this one-of a kind guide leverages the wisdom and experience of over 70 years of professional expertise in the field of divorce. The entire Divorce Companion program includes two videos, a 128 page digital interactive guidebook, 11 MP3 audio clips, and a Bonus audio, Informed Choices: 15 Straight Talk Conversations About Divorce, featuring a team of divorce professionals.
The Divorce Companion puts an end to hours of late night searching on the web for reliable information, and is the only resource of its kind that provides support for every aspect of divorce.
Divorcing individuals can review the contents of the Divorce Companion and purchase this interactive multi-media guide to a healthy divorce for $195 – less than one hour of an attorney's fee. Details can be found at http://www.divorcecompanion.com.
_______________
About Divorce & Relationship Coach, Adina Laver
Adina Laver, MBA, M.Ed., CPC is an internationally recognized divorce and relationship expert and coach who serves individuals and couples who are considering divorce, preparing for divorce, or navigating divorce and want to pursue this life transition in a healthy, self-empowering way. Through her one-one-one and couples coaching programs as well as her new highly acclaimed multi-media self guided divorce resource, Adina helps individuals and couples reduce the emotional, financial and spiritual cost of divorce and opens the gateway to personal growth through one of life's most challenging transitions. Adina appears regularly in the media on TV and radio and hosts a free monthly support call for those preparing for divorce. To interview Adina Laver, engage her to speak, or to learn more about how the Divorce Companion is designed to transform the divorce experience, visit http://www.divorceessentials.net.