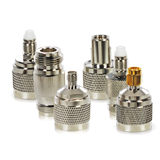 (PRWEB) May 27, 2014
Recently, Excel-Wireless.com, a reliable company of high quality electrical accessories, has updated its website with a new range of RF Coaxial Connectors. All clients who place an order for these brand new connectors can enjoy a discounted rate, up to 29% off, before June 19, 2014.
The aim of Excel-Wireless.com is to provide all distributors with the best electrical accessories. As one of the industry leaders in the world, the company knows the importance of its accessories and services, and it holds that responsibility with the utmost seriousness. All its top experts know that a lot of people are looking for cost-effective items. Thus, they are striving to make more innovative and cheap products.
The company's chief senior spokesman is happy when talking about the new RF Coaxial Connectors. "We are excited to announce our new collection of RF Coaxial Connectors. By providing the big savings, we want to strengthen our relationship with worldwide customers. Those who are interested in our discounted products should visit our website now, because the special offer will not last for a very long time," he says.
At present, worldwide distributors can find a wide variety of top quality electrical accessories on the company's website. Excel-Wireless.com is a big player in the electrical field; it insists on offering the best items only.
About Excel-Wireless.com
Excel-Wireless.com is a leading global supplier of cellular amplification and wireless communication systems with a focus on cell phone boosters. The business has many years of experience in the industry with a trackable record that it has cooperated with many companies, universities, military and government agencies and communities in all sizes around the world. For more detailed information of the company and its new products, please visit: http://www.excel-wireless.com/rf-coaxial-connector.