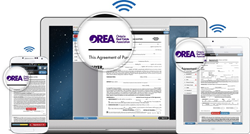 Our team was focused on bringing the home buying process into the digital age
Toronto, ON (PRWEB) May 27, 2014
DealTap announced it has entered into a licensing agreement with the Ontario Real Estate Association (OREA) to make available OREA Standard Forms and Clauses to OREA Members through its fully digital real estate transaction platform.
DealTap's cutting-edge 'Transaction on Rails™' technology enables REALTORS®, home buyers and sellers to complete a home sale transaction more efficiently and with greater security by using their phones, PC or tablet.
"Our team was focused on bringing the home buying process into the digital age," says Milan Baic, president of DealTap. "REALTORS® as well as home buyers and sellers wanted a more efficient experience. We have been developing a solution for two years now; our patented technology has received a great deal of interest within the real estate industry and beyond."
A real estate transaction requires the signing and exchange of several documents. Agreements of purchase and sale are often faxed, scanned and emailed numerous times over the course of a transaction. By the time the final version is signed, the agreement can be difficult to read. The technology allows agreements to be filled out on a computer or tablet, changes can be tracked and documents can be transmitted with ease.
"As a provincial organization, OREA partners with leading technology companies that offer new ways for our members to be more efficient and achieve their business objectives," says Costa Poulopoulos, president, OREA. "We know that most home buyers and sellers are connected to either a smart-phone, tablet or computer, thus online transaction platforms are the wave of the future."
"DealTap is on a mission to revolutionize the industry in terms of how transactions are completed, and reduce the eco-footprint along the way," says Baic. "The platform was developed in Toronto by working from the ground up with local REALTORS®. The result is a truly collaborative digital experience that is intuitive, slick, and engaging for all parties involved."
About DealTap
Headquartered in Toronto, ON, DealTap™ is transforming the real estate industry with its digital 'Transaction on Rails™' technology, that enables a real estate salesperson to generate, sign and negotiate agreements electronically. The innovative DealTap™ solution is a patented, cloud-based platform that lets users add, amend, and sign documents digitally - anywhere. DealTap™'s mission is to become the new standard in the industry for real estate transactions, providing a leading-edge platform solution to the challenges of security, efficiency and operating costs in the real estate industry. To learn more about DealTap™ visit http://www.DealTap.ca
About OREA
The Ontario Real Estate Association represents over 58,000 brokers and salespeople who are members of the 40 real estate boards throughout the province. OREA serves its REALTOR® members through a wide variety of professional publications, educational programs, advocacy, and other services. http://www.OREA.com