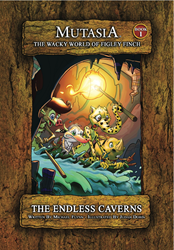 Palm Beach Gardens, FL (PRWEB) May 27, 2014
Mutasian Entertainment LLC is excited to participate in the BookCon event at BookExpo America on Saturday May 31, 2014 at the Javits Center in New York City. Michael Flynn, author of "Mutasia: The Wacky World of Figley Finch. The Endless Caverns", will be autographing his book in booth 2965 between the hours of 9:00am and 3:00pm.
"It is a real privilege to share the wonderful world of Mutasia at such a prestigious event," said Michael Flynn, author of "Mutasia: The Wacky World of Bigly Finch. The Endless Caverns". Flynn stated, "Writing the first book in the series of The Wacky World of Figley Finch has been a fun and exciting adventure during which I was able to immerse myself in the wonderful world of Mutasia. These stories are a fun way for children to discover their own unique talents and learn how to develop skills that will help them find success through the adventures of Figley."
Michael Flynn is the Director of Mathematics Leadership Programs at Mount Holyoke College and Lecturer in the Psychology/Education Department. Prior to this work, he was a second grade teacher at the William E. Norris Elementary School in Southampton from 1998-2012 where he established himself as an accomplished teacher and educational leader. He was the 2008 Massachusetts Teacher of the Year, a recipient of the 2009 Horace Mann Award for Teaching Excellence, and most recently a recipient of 2010 Presidential Award For Excellence in Mathematics Teaching.
About Mutasian Entertainment LLC
Mutasia is a mixed up world that inspires creativity and self-discovery in children of all ages. As mixed up mixes of every animal imaginable, each inhabitant of Mutasia is a unique individual; and through them, we can all learn to embrace what makes us different. Children of every age will laugh and sing as the Mutasian adventures come to life through a series of colorful books, animation, music, and mobile apps.