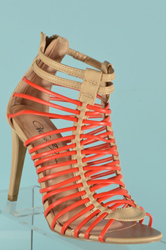 The right pair of shoes can change your life.
Los Angeles, California (PRWEB) May 28, 2014
Summer is a prime time for shoe shopping and the popular fashion wholesale shoe store Rakel's Shoes is more than ready for action. All of the last styles and fashions are being stocked to give their customers as many choices as possible to select from. All with the high quality and backed by the winning customer service the company is known for.
"Summer is very important to our customers and this year we're sure they are going to be impressed," commented a spokesperson from the company. "We've put a lot of time, thought and energy into what we're offering this summer, like we do every year, and we're looking forward to seeing our clients really prosper while selling the hottest shoes on the market today."
Many new products are being offered in multiple colors and styles. Flats, sandals and flip flops, heels, wedges and boots are all represented securing Rakel's Shoes reputation as a "one stop" shop for wholesale shoe orders. Some of the popular new styles include the Ongee, Lenox, Ray, Crystal and the Clore. They truly need to be seen on the company's new website to be fully appreciated.
For fashion stores keeping their stock fresh for each season is an absolute must and Rakel's Shoes has made this need as easy to stay in touch with as possible. The wide and fresh selection takes much of the guess work out of keeping a store on top of the latest trends and, importantly in today's environment, does it at prices that are sure to make their customers smile.
The company offers their shoes strictly on a wholesale basis. This allows Rakel's Shoes to offer superior customer service as well as provide fashion shoes at an affordable price that their clients can count on to allow them to make as much of a profit as possible. This type of attention to detail has allowed the company to build solid, long lasting business relationships that survive the test of time.
John M., a Florida shoe store owner commented, "I do all my wholesale shoe shopping with Rakel. For our needs here they offer the best combination of price and quality. Really, the best part is that I know if I have any questions or concerns I can always call and get an answer right away. I've tried to work with other wholesalers and none come close to Rakel. Fully recommended."
Recently, Rakel Shoes upgraded and redesigned their website making for an even easier wholesale shopping experience. With the new Summer line this includes photos and information about each product as well as information on minimum orders and pricing. The new slick design has an emphasis on function and certainly paints the new summer line in the best light possible.
For more information on the company and to see the latest catalog visit http://www.rakelsshoes.com.