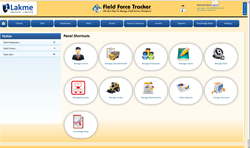 These enhancements continue our track record of integrating industry-leading capabilities that help our users to work more effectively and efficiently.
Princeton, NJ (PRWEB) May 27, 2014
Rapidsoft Systems today announced a new release of Field Force Tracker™, its flagship mobile field force management solution, featuring industry-leading enhancements to contract management features. New features are designed to drive greater efficiency and potential cost savings to the service companies that offer service contracts.
This upgrade provides powerful new capabilities for Field Force Tracker. First, managers can access all service contracts data from a single page, with filters for quickly narrowing in on the desired service contract, its SLA (Service Level Agreement) and the client. The service contract can be configured with many attributes such as the number of services included, types of products included and number of free services included etc.
Second, all contract data is automatically available at the time of a work order creation. If a client calls for a new service, the system automatically lets a dispatcher know if the client is under any service contract. This allows a company to track the cost effectiveness of a contract and avoid billing a customer that is a under a maintenance contract. A full contract history is maintained providing full log of all activities related to a service contract including payments. These advancements, added to the industry's easiest to use interface for service management, including the ability to integrate mobile invoicing with timesheet and job workflows, makes Field Force Tracker, the most powerful software offering for mobile businesses.
"The improvements we have made to the Field Force Tracker provide functionality that isn't available in most field force management software," said Dr. Brijesh Kumar, COO and Head of Technologies for Rapidsoft systems. "These enhancements continue our track record of integrating industry-leading capabilities that help our users to work more effectively and efficiently."
Field Force Tracker, a mobile enabled web-based field service management software, streamlines technician scheduling, dispatch, customer management, vendor and employee management, work orders, equipment maintenance, inventory tracking, contracts, estimates, invoices, payments and accounting. It is considered one of the most feature rich software of its kind.
Field force tracker software does not require any special phone and runs on any Android phone or tablet. The company claims that Field Force Tracker software is suitable for all verticals in the service industry. According to a company representative, with the close integration of the mobile applications with the cloud based Field Force Tracker software, the service companies can expect to achieve higher utilization of their resources and significantly cut their operational costs.
Field Force Tracker software has been developed and supported by Rapidsoft Systems Inc.
About RapidSoft Systems, Inc.
Rapidsoft Systems, Inc. (http://www.rapidsoftsystems.com) is a leading Outsourced & Offshore Software Product Development company with headquarter in the United States and product engineering centers in United States & India. It partners with technology companies and software-enabled businesses to help them bring quality software products to market through dedicated or on-demand offshore engineering teams. It has a subsidiary, Mobisoft Technologies (http://www.mobisofttechnologies.com) dedicated to mobile applications development located in Noida, India.
Rapidsoft Systems, Inc. has its main office in Princeton, NJ, USA, a US R&D Center in Mercerville NJ, and sales, support and development offices in Palo Alto, CA, USA, Dubai (UAE), and Noida (India).