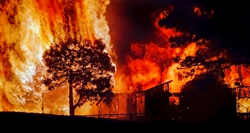 A Cinematic Extravaganza - Writer Noel Lawrence
Los Angeles CA (PRWEB) May 29, 2014
How do you go around the world in a few days? Attend the 5th Annual New Media Film Festival in Los Angeles June 10 & 11 2014 at The Landmark Theatre.
An eclectic array of stories across multiple New Media Categories hail from Afghan, Argentina, Australia, China, France, Germany, Hong Kong, Hungary, India, Iran, Israel, Italy, Japan, Mexico, Netherland, New Zealand, No. Africa, Palestine, Russia, Siberia, Singapore, So. Korea, Switzerland, UK, USA & Venezuela.
With humble beginnings, The New Media Film Festival began in 2009 with a strong slate of films from around the world. Since its inception, the festival has brought thousands of people together to view, discuss, buy and sell movies across a variety of traditional and new media formats.
Now in its 5th year, The New Media Film Festival is stronger than ever, at a cross roads of excellence and embodying a potential future that could literally take the world by storm.
The New Media Film Festival is a gem that has been well cared for and exponentially promoted across a variety of channels and via several well-manicured networks infused with high pedigree creators and executives. It is one of the most unusual festivals in the world today.
Red Carpet, Celebs, Films, Web Series, 3D, Panels, Filmmaker Q & A, VIP Soiree are just part of the happenings at the 5th Annual New Media Film Festival.
These films are a sampling of the global stories that will screen:
GALAPAGOS 3D Ep2 Dir. Martin Williams
USA 50:00
Galapagos, is the first series from Colossus Productions, set up by Atlantic Productions and Sky 3D to develop and produce high end 3D projects. With this groundbreaking series, Colossus has cemented its position as a world leader in 3D. In this series Sir David Attenborough and Anthony Geffen have pushed this medium, its time-lapse techniques and technology to their limit, meeting the unprecedented challenges posed by the unique species and environments of the Galapagos. The series takes us on a voyage to understand the stunning archipelago that changed the way we see the world.
THE STORY OF M
Russia 22:21 LA Premiere
She smiles like Marylin she walks like Marylin she even dresses like Marylin. A chance encounter at a second hand store - and the world of dreams is crushed by reality. Shot on Canon Mark II
TINA'S WORLD Ep1 Dir. Jennifer Shwerin
CHINA 5:01 World Premiere
It is about Tina, a high-school student who is planning to study in US after graduation, and the video blog documents her journey.
REFLECTIONS Dir. Alon Ziv
Israel 5:19 LA Premiere
Barnie, a grown man, plays around with his childish reflection in an urban landscape. The fun comes to an end when other adults change him & turn him into one of them.
HOW I LOST MY WINGS Dir. Ivan Tasic
Serbia 22:00
Through a series of introspective views on personal conflicts of ideological & iconographic normative with general spiritual & moral thoughts, man, by using his dreams & memories he reconstructs semi centennial period of the country that doesn't exist anymore.
CRUISE PATROL Dir. Bobby de Groot
Netherlands 7:25 US Premiere
On a long and dusty road a routine cruise patrol takes a strange turn and spirals totally out of control. Shot on Autodesk Maya and Eyeon Fusion.
Full Schedule & Ticket Info http://www.newmediafilmfestival.com/schedule/
New Media Film Festival Honors Stories Worth Telling in 20 Categories. Each entry is considered for Screening, Competition ($45,000 in Awards) and/or distribution.