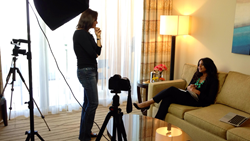 Fairfax, Va (PRWEB) May 29, 2014
Sumi Krishnan, President of $20MM consulting company K4 Solutions, Inc. and an Entrepreneur since she was 19, is launching a brand new Coaching Program for Women Entrepreneurs. The mission of her program is to empower other women to create freedom-based businesses for themselves by tapping into the global marketplace and the "social" economy.
Krishnan is motivated by a 2013 Gallup poll indicating that 70% of workers in this country feel unhappy, disengaged or "blah" about their work. She is passionate about changing these statistics by creating a generation of women entrepreneurs who are creating businesses and lives for themselves that they love.
She is ready to share all that she has learned about creating a successful business including the mistakes she has made along the way. Finding inner contentment and joy from work is central to her program and messaging, and is in line with Arianna Huffington's "Third Metric" widely cited and discussed in the media.
"In some ways feel I'm pioneering these types of "feel good" conversations in corporate, but I'm already seeing a culture shift toward bringing more joy to the corporate world. I know a change is coming," she says, "I can feel it."
Sumi Krishnan is launching her coaching program on Tuesday, June 3rd, 2014 with a free 1-hour training call to anyone who would like to join. You can find out more and sign up for her free online seminar here: http://www.sumikrishnan.com/create-your-dream-business.