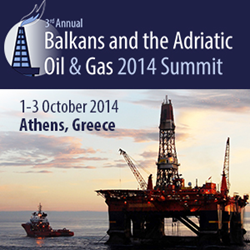 It's an IRN Summit!
London, UK (PRWEB UK) 27 May 2014
This edition of the event will take place over three days with the third day hosting a special workshop addressing the Adriatic bidding rounds and prospects.
The Summit will address hydrocarbon developments in all Balkan countries, facilitating discussions particularly on:

Greece: offshore licensing round blocks delineation, future projects and investment program, pipeline local and international projects developments
Albania: offshore sector and developments, the country as a natural gas hub, new licensing round
Bulgaria: geology and opportunities
Romania: latest discoveries, Black Sea hydrocarbon potential, shale gas
Croatia: Governmental plans for the successful bidders, new hydrocarbon exploration and exploitation legal regime, thorough geological update
Montenegro: Governmental announcement on the oil and gas exploration activities and licenses
Slovenia: upstream and downstream industry outlook
Italy: case studies on the 2 Northern Adriatic oil licensing areas, offshore geological overview
Bosnia and Herzegovina: oil and gas outlook, exploration updates
Serbia: shale potential and major projects
The Balkans Oil & Gas Summit was launched in 2012 as the only senior level meeting covering the hydrocarbon developments in the Balkans region, with the Balkans Ministers, Governmental Officials, national and international oil companies and major service providers gathering for the Summit in Athens. The Summit has successfully gathered companies such as Albpetrol, Weatherford, Zeta Petroleum, Gazpromneft, Bankers Petroleum Albania, BG Group, Wintershall Holding, Akfel Holding, Bulgartransgaz, Baker Hughes, DEPA, DESFA, Energean Oil & Gas, Ernst & Young, ExxonMobil, INA - Industrija Nafte, ION, Zarubezhneft, Marathon Oil, Fugro, HELPE, NIS, Repsol, Romgaz, Petromanas, PGS Exploration, Plinacro, San Leon Energy, Statoil ASA, Sterling Energy UK, Stream Oil & Gas, TAP, Shell International E&P, Socar (Mo), Sonatrach, Tenaris, and others, in the last two years.
What attendees have said about the Summit previously:
"Thank you for organizing such event. It was a value for me and my company," Senior Level Representative from Romgaz
"In the name of Montenegro delegation, I want to thank you for the excellent organisation of the Summit," Senior Governmental Official from the Ministry of Economy, Montenegro
More information about the Summit is available on the website: http://www.balkanssummit.com.