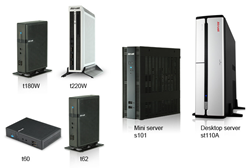 Taipei, Taiwan (PRWEB) May 29, 2014
Atrust Brings Intel® Bay Trail Quad Core Thin Clients to the Market.
Products to be presented by Atrust on the show will include x86 WE8S and Linux based thin clients, t180W, t180L, t220W, t220L and t220WQ. These thin clients are running Intel® Bay Trail quad core processors, which offering stunning graphics and multimedia performance with sharp and smooth HD video playback. Both t180 and t220 series are capable to dual displays with high resolution, up to 1920 x 1200 pixels. Atrust t220WQ even supports four monitor.
Super Mini, Super Power –Atrust s101A
Atrust s101A delivers industry-leading performance in contrast to its small dimension, featuring Intel® Haswell Quad Core E3-1275L v3 2.7GHz, Intel® Haswell Quad Core E3-1265L v3 2.5GHz or Intel® Haswell Dual Core i3-4330TE 2.4GHz processors with two LAN ports, two hard drivers and upto 32GB DDR3 RAM. Advanced options include TPM (Trusted Platform Module) and M.2 module (support SSD, 1 x 80 mm) for enhanced availability.
These brilliant products will be available on show for demonstration. They are perfect for businesses looking for IT solutions with high-performance and enterprise-class security to support their demands as their business grow.
A Wide Range of Selections
Looking for an economical and efficient solution for your business? Through partnerships with industry leading vendors like Citrix, VMware and Microsoft, Atrust provides a wide range of hardware and software solutions, from small businesses to corporate enterprises. Atrust hardware includes ARM, x86 based thin clients, zero clients, and servers, from desktop to rack mount servers.
The ARM based thin clients like mt100, a mobile thin client, offers the mobile workers a rich remote user experience. Another addition of this series such as a100T, an 21.5" LCD integrated all-in-one thin client, is ideal for companies looking for the simple, reliable, space-efficiency computing to support demanding applications across wired and wireless environments. The Microsoft WE8S embedded thin clients provide the Windows 8 experience with built-in web browser and media player for main thin client users. VMware PCoIP zero client, like Atrust w100 and a100W, all-in-one zero client, deliver the affordable way to enjoy the computing experience through PCoIP technology by allowing users to share the computing power from one single server.
Atrust endeavors to design for a wide range of deployment scenarios. Organizations such as educational institutions, financial services, healthcare, government agencies and retail stores can be benefited from its various solutions.
Visit Atrust for Hands on Experience
Visitors are invited to visit Atrust at booth #M1227a to benefit from its professional experience. For anyone who would like to arrange a meeting or get some hands on experience with Atrust, please check with http://www.atrustcorp.com or contact Atrust at sales(at)atrustcorp(dot)com.
About Atrust:
Established in 2007, Atrust is a creative, professional, and enthusiastic team which has rich experience in designing, producing Thin Client, Zero Client, Server and Management Software. The objectives of Atrust are to provide customers with high quality, high efficiency and environmental friendly products as well as comprehensive solutions. For more information on Atrust is available on http://www.atrustcorp.com.