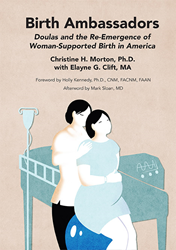 Doulas are the ambassadors to the midwifery model of care in the U.S.
Amarillo, Texas (PRWEB) May 29, 2014
Childbirth in America continues to be a challenging experience for many women. Rates of cesarean sections are at an all-time high. Almost half of American women described their recent childbirth experience as "traumatic," with 9% meeting full criteria for posttraumatic stress disorder. According to the book, Birth Ambassadors , by Christine Morton and Elayne Clift, increasing numbers of women planning to give birth in a hospital are hiring doulas. A doula is a woman who provides continuous labor support. This type of support can lower the risk of common interventions often used in maternity wards. The doula's role is to provide individual attention, information, and support to her client, and to facilitate the same from the rest of the maternity-care team.
The role of the labor-support doula has received some important recent recognition. In February 2014, the American Congress of Obstetricians and Gynecologists and the Society for Maternal-Fetal Medicine issued a joint Obstetric Care Consensus statement: Safe Prevention of the Primary Cesarean Delivery. The report recognized that measures can and should be taken to reduce the number of primary cesareans. Among the recommendations was that women consider the support of doulas for childbirth as their presence during labor can reduce the chances of cesarean sections.
Doulas share a collective commitment to women's birth experiences that is changing the culture of birth. Doulas are part of the framework that comprises the midwifery model of care, which views birth as a normal, not pathological event, and where the rates of interventions, such as epidurals and cesarean sections, tend to be lower. Midwifery care is not available to the majority of American women, but hiring a doula can provide many of the same advantages. To honor International Doula Month, Praeclarus Press highlights Birth Ambassadors as the definitive work on doula care in America, as Dr. Robbie Davis-Floyd describes.
"This book is THE definitive work on doulas in the United States… Want to know what a doula actually does for laboring mothers? Read this book! Want to know what a doula can do for you personally, if you are expecting? READ THIS BOOK! Want to know if you yourself should become a doula? READ THIS BOOK! …You will find all your answers within its beautifully written pages." --Robbie Davis-Floyd PhD, Senior Research Fellow, Dept. of Anthropology, University of Texas Austin, author of Birth as an American Rite of Passage, and co-editor of Mainstreaming Midwives.
Christine H. Morton, Ph.D. is a research sociologist whose research has focused on women's reproductive experiences and maternity care roles. Since 2008, she has been at Stanford University's California Maternal Quality Care Collaborative (http://www.cmqcc.org), where she conducts research on maternal mortality and morbidity.
Elayne G. Clift, MA is a writer, journalist, and Humanities adjunct professor. She has worked internationally as a health communications and gender specialist, and is an educator/advocate on maternal and child health issues. A volunteer doula and Vermont Humanities Council Scholar, she has edited anthologies and published fiction and poetry collections, a novel, and a memoir.
Praeclarus Press is a small press founded by Kathleen Kendall-Tackett, Ph.D., IBCLC, FAPA and specializes in women's health. It features books, webinars, and products that support women's health throughout their lifespan. Based in Amarillo, Texas, the mission of Praeclarus Press is to produce materials that change women's lives.